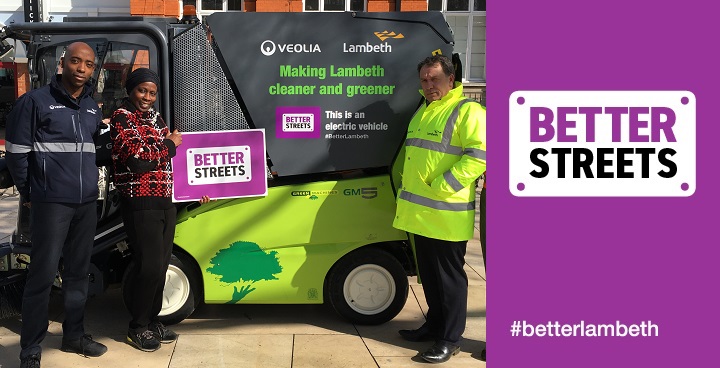 The fleet of five electric vehicles will be operated by Lambeth's street cleaning contractor Veolia as an enhancement to their existing street cleaning service. The 'Green Machine 500ZE' mechanical brooms will introduced onto Lambeth's streets from this summer.
Word from the Cabinet
Cllr Jenny Brathwaite, Cabinet Member for Housing and Environment, said: "This new investment will help make our streets even cleaner without detriment to London's air quality. Improving air quality is a priority for Lambeth, and our new street cleaning vehicles are only one of the many things we are doing, such as discouraging idling and increasing the amount of monitoring equipment on our streets."
Traditional street cleaning vehicles run on diesel, and while modern diesel engines produce less pollution than older ones, they're not as clean as the electric versions.
'Sustainable energy use'
Steve Verrier, Senior Contract Manager for Veolia, said: "We recognise the importance of sustainable energy use and minimising our impact on the environment. These new electrical vehicles demonstrate a firm commitment from Veolia and Lambeth Council to move towards more sustainable methods of providing services."
Lambeth is also trying to make it easier for residents to own electric vehicles, with £200,000 earmarked to support the roll-out of fast charging points. The council has also been trialling charging using existing lamp columns.
Veolia is committed to protecting the environment and improving the lives of the communities in which it operates. Veolia has been awarded two of the UK's most prestigious business accolades for its role as an environmental and social sustainability leader. It was recognised in 2016 as Business in the Community's Responsible Business of the Year, and in 2014 it was awarded the Queen's Award for Enterprise in Sustainable Development.