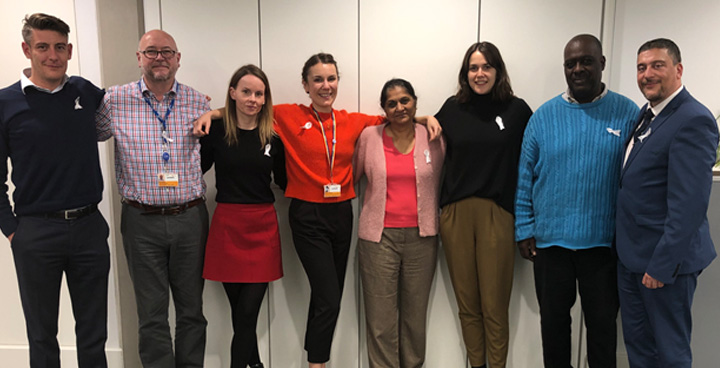 Lambeth's involvement in the International Day for the Elimination of Violence Against Women 2019 is about encouraging staff, practitioners and the community to get involved in ending violence against women and girls.
White Ribbon Day
Combatting Violence Against Women and Girls is a key priority for Lambeth as outlined in our Violence Against Women and Girls Strategy.  We are therefore supporting International Day of Elimination for the Violence Against Women, also known as White Ribbon Day, which takes place on 25 November 2019.
Wearing the ribbon signifies your personal pledge never to commit, condone or remain silent about violence against women or girls. White ribbons can now be bought on reception at Lambeth Civic Centre and Town Hall; the suggested donation is £1 and all money collected will go to the White Ribbon fund which works with men and boys to challenge the cultures that lead to harassment, abuse and violence.
Lambeth against Female Genital Mutilation
We are also running a closed invite-only event 'Lambeth Against FGM 2019' on 28 November 2019 which will bring the community and practitioners together to raise awareness about what we are doing to tackle this harmful practice and think together about what more we can do.
Get support
Any Lambeth resident experiencing gender-based violence can access our pioneering service to the Gaia Centre. Gaia offers free confidential non-judgmental, independent, practical and emotional support services to survivors, and can offer advice to practitioners.
Gaia contact: Tel: 020 7733 8724 or email lambethvawg@refuge.org.uk.
Africa Advocacy Foundation provides specialist one-one counselling and peer support group sessions to those affected by FGM. They also provide training and advice to practitioners.
African Advocacy contact: Tel: 020 8698 4473 or email: shani@africadvocacy.org.