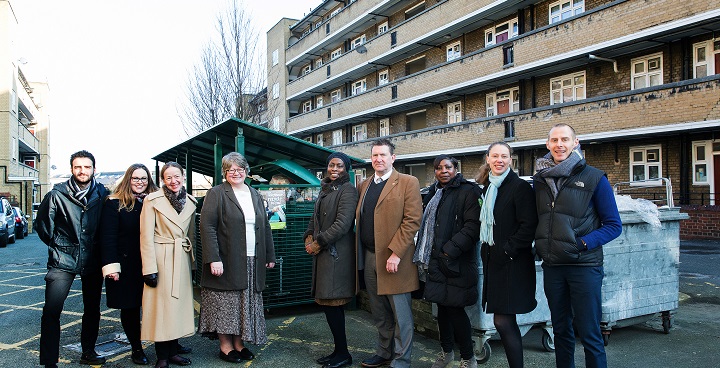 London's recycling rate increased by 1% (to 33%) in 2017 (according to figures released by Defra in December) – but that's 11% worse than England's average. London's Deputy Mayor for Environment and Energy, Shirley Rodrigues, said: "We are fully committed to helping Londoners increase recycling. London's target is 65% by 2030."
Focus on flats
Encouraging London's flat dwellers to recycle is key to meeting the 65% target because the number is rising. By 2030, 46% of all London households will be flats.
Barriers and benefits
In Lambeth, we are already trying new ways to improve recycling  on our housing estates. Environment Minister Thérèse Coffey visited Tulse Hill to learn more about our evidence-based approach.  We are trialling a range of different approaches and measuring their impact on recycling rates. Early findings show that one type of intervention increased the amount recycled by 59% in the first three weeks after it was introduced. However, we are waiting to understand the longer term impact before we make any policy decisions.
 London-wide approach
 A new research project is being led by London Waste and Recycling Board (LWARB) in partnership with Peabody Housing Association. In a similar approach to our own work this project will trial and measure the impact of different interventions on estates across London. The aim is to continue to build our understanding of why recycling rates from blocks of flats remain low and what can be done to change this. Lambeth is currently working with LWARB and Peabody to support the initial stages of the project. Look out for more information as the research gets underway later this year.
Word from the Cabinet
Cllr. Jenny Brathwaite, Cabinet Member for  Housing said: 'We are pleased that our pioneering work on understanding both the day-to-day motivations for recycling and the barriers to it that Lambeth flat-dwellers face can contribute to a piece of work designed to improve urban environments all over London and the UK."
 Finding and fixing
The Minister said "Recycling in urban areas is difficult – nowhere more so than London, where one borough has the lowest recycling rate in the country at just 14%. I look forward to the results of this important research partnership to understand how government can help.
---
For more information
Resource London, who are running the London-wide research, is a support programme for London's waste authorities delivered in partnership by the London Waste and Recycling Board and WRAP, the UK's resource efficiency body. Visit the programme's information pages
For information about recycling in Lambeth see the Council's information pages