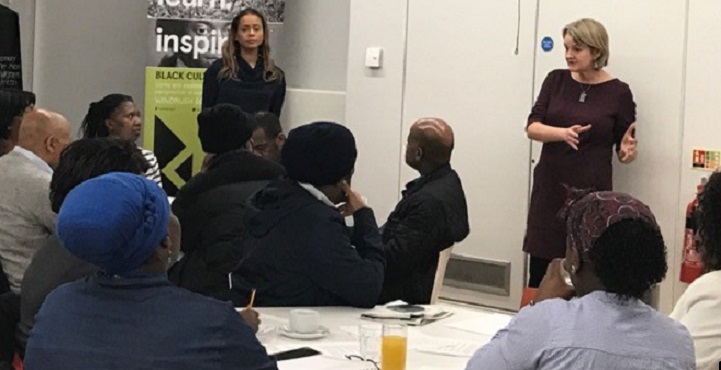 Dozens of residents this week gave evidence to Lambeth's new Equality Commission, at a specially-organised session highlighting the experiences of the borough's African-Caribbean community.
The Focus Group, held at the Black Cultural Archives (BCA), is a key part of the work of the Equality Commission, which has been set up to identify and tackle the barriers that still prevent many Lambeth residents from fulfilling their potential.
Commissioners have held a series of public events since last autumn, giving residents the opportunity to share their experiences of inequality in areas including education, work and crime & justice.
Commission member Miranda Brawn, who is also Vice Chair of the BCA Board of Trustees of Black Cultural Archives, opened the latest focus event and thanked the residents for coming. Cllr Lib Peck, leader of Lambeth Council, set out the purpose of the Equality Commission and the issues it needed to address.
The residents, together with a number of Lambeth community activists and councillors, split into groups to discuss the four themes of the Commission's work, focusing in particular on the experiences of Lambeth's black communities. They also moved between groups to share their experiences more widely.
Commission member Cllr Jennifer Brathwaite, who is also Cabinet Member for Environment and Transport, said the session had been very productive. She also said the groups had managed to get under the skin of the complex issues they had been discussing.
All contributions from the groups and individual members were collected at the end of the meeting, and they will be considered by the Commission when it is compiling its final report and recommendations in the coming weeks.
Commission members have also urged Lambeth residents from all communities and backgrounds to comment on equality within Lambeth – and suggestions for improvement – to contribute to the final report.
If you'd like to contribute your own thoughts on any or all of the questions, you can send them to the Equality Commission.