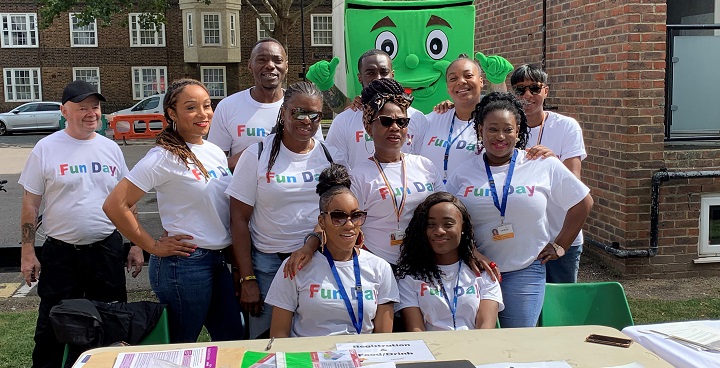 Lambeth Council has thanked residents and partners for a series of successful estate summer fun days which drew hundreds of families in July and August. The fundays, funded by Lambeth, invited housing repairs organisations , local charities and national organisations to meet and offer advice to residents. The events included activities for young children during the summer holidays, with bouncy castles and free food. As part of the council's commitment to tackling climate change, partners were invited to provide cycle confident training and Lambeth advertised spaces in its cycle storage hangers.
Improved relationships
Neighbourhood Housing Manager Judith Grant explained how talking to residents on estate fun days instantly improves relationships  – "We can turn a resident's needs  from an anonymous email into a solvable problem that we're working on in partnership."
Word from the Cabinet
Cllr Paul Gadsby, Cabinet Member for Housing, said: "There has been a hugely enthusiastic response to the fun days we have run over the summer, with hundreds of families attending. I think they have been so successful because they have been driven by the community, with lots of local organisations pitching in ideas and suggestions. We did want to ensure that our estates had something extra this summer, especially for children, and I would like to thank everyone in the community, as well as our hard working staff, who made many of these days memorable."
Partnership views
Repairs contractor Mears said "Talking face-to-face lets us remind people that our service can only get better when residents tell us about repairs problems they had."
Age UK Lambeth: "An Open Day gives people a chance to talk to us about their parents and check out what we offer."
GLL handed out free one-day leisure centre passes: "We want more kids at swimming lessons – it's a life saving skill – and invite over-55s to special healthier lifestyle sessions."
Lambeth's Public Protection Team answered questions about coming to test noise pollution/anti-social behaviour when residents report it.
Cycle Confident and Dr Bike encouraged people to get neglected bikes back on the road and get their bodies and the environment healthier.
Local Fire Officers offered free smoke alarm fitting and advice on fire safety for smokers and in kitchens, as well as letting kids sit in the driving seat of a big red fire engine.
Recycling, wellness, cooking with less fat, salt and sugar, overcoming isolation and much more were also on the menu.
The 'fun' part included magic, music (including talking drums and the Street Orchestra), and BBQs.
All the stallholders were chosen and invited by Lambeth's Neighbourhood Housing Officers. "The team put in a lot of effort and it's worked!"