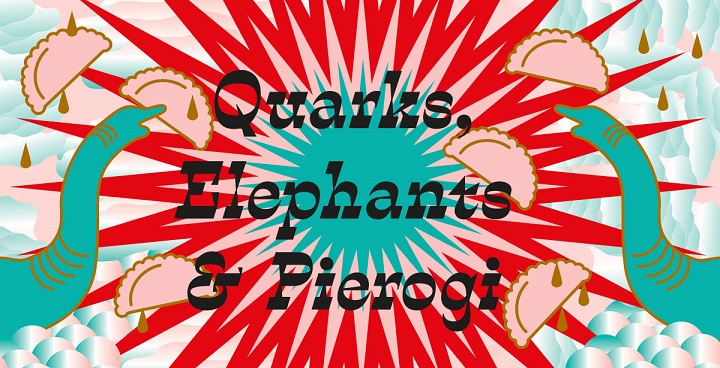 The artwork for a new exhibition in Clapham Library is based on Magdalena Burdzyńska's illustrations for Culture.pl's Quarks, Elephants & Pierogi: Poland in 100 Words by Mikołaj Gliński, Matt Davies and Adam Żuławski. The book was awarded one of Poland's Most Beautiful Books of the Year by the Polish Book Publishers Association. David Crystal, author and expert on the English language, called it: "A stunning combination of content and design… I enjoyed every bit of it, and wish there were more like this, on other languages."
Illustrations come alive
Opening on 28 September, the exhibition celebrates the Polish language through creative use of space and illustrations.  Burdzyńska's illustrations jump into new forms in the physical space of the library, unexpectedly taking up space on the floor and in the curved atrium, or even by being reinvented in neon. The artist explains: "I want the exhibition to appeal to adults and children alike, because we all play with language our whole lives. I love playing with visuals in much the same way."
Pictures and words
The official opening will be marked by an afternoon of special events.
1pm: Artistic workshops for children aged 6-13 with illustrator Magdalena Burdzyńska
3pm: Official opening of the exhibition
4pm: Conversation with co-authors Mikołaj Gliński and Adam Żuławski, led by Magda Raczyńska from the Polish Cultural Institute
Organisers
The exhibition will be at Clapham Library (Clapham High Street) for a month. It's been organised by the Adam Mickiewicz Institute, Clapham Library, Stockwell Partnership's 'Poles Connect', and the Polish Cultural Institute in London. The official carrier of the exhibition is LOT Polish Airlines.
Free, no booking required.
More information
For more details of Quarks, Elephants & Pierogi: Poland in 100 Words, see their information pages
For more about the month-long Lambeth Heritage Festival, with times, dates and booking details of more than 60 events all September long, see the Council's information pages, download a guide, or pick one up in your Lambeth library