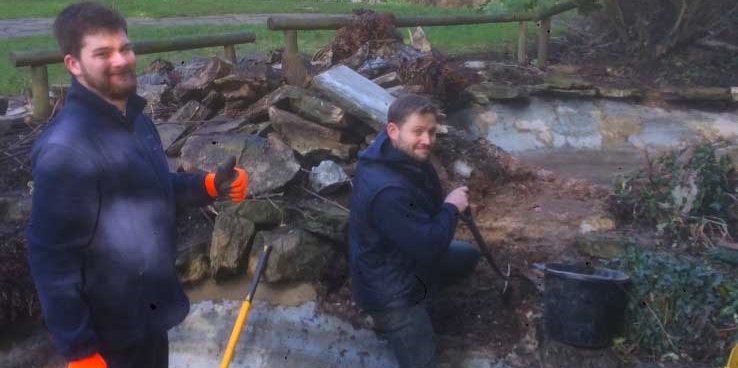 Thanks to Heritage Lottery Fund money, SCCoop fundraising and Lambeth Council, SCCoop is renovating the Cascade water feature in the Rookery Garden.  The Cascade was part of the municipal garden laid out in 1913, but the Rookery dates back to circa 1786, on the site of a house named Well House, or Streatham Wells. It stood on the site of Streatham Mineral Wells, discovered in 1659.
Streatham's mineral water
The natural springs on Streatham Common rose at 52º Fahrenheit.  The water had a slight odour of sulphur and was sparkling. Bottled springwater, thought to cure many diseases, was sold at the well at sixpence per gallon. It was advertised with 'good accommodation for parties to drink the water on the premises' and delivered all over London.
Reopened in 1913
The house was demolished in 1912 and the Rookery Garden was gifted to the London County Council (LCC) after a fund-raising effort led by local resident Stenton Covington. It opened as a municipal garden with a new layout (including the Cascade) the next year.
The Cascade
The Cascade is on the site of the original stables.  It flows down one side into the Old English Garden, taking up approximately one acre. The wide steps lead down from where the house once stood, to the Old English Garden and towards the Old Well which was retained in 1910. An ornamental well head was installed at that time.
Fixing the leaks
100 years of 'patch' repairs meant the Cascade (when it ran) lost thousands of litres of water. Contractors Aquascapes started construction work early this year. The pools have been cleared of lots of sludge and rubble. The old concrete pools have been repaired and relined with three layers of fibreglass. Many of the waterfalls and gulleys have been dismantled and rebuilt – where possible, re-
Planting and volunteering
Despite challenging weather, we're making good progress and the construction side of the project should be completed in April.  But then there's more to do when we start replanting around the cascade pools with the help of volunteers.
---
For more information