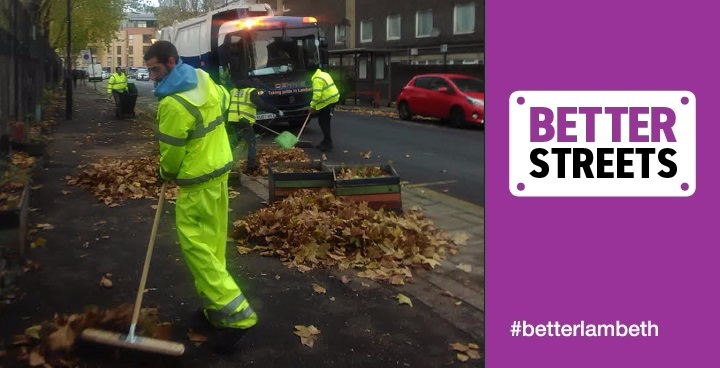 Autumn – all that mist and mellow fruitfulness is all very well for poets,but for Lambeth's partners Veolia fallen leaves mean rising to the challenge. It's time once again to call for reinforcements for street sweepers keeping the roads clear so people can get to work, get to school, get out and about.
Leaves can't stay
As well as pumpkin spice lattes and sweet toffee apples, autumn brings an avalanche of leaves. For our sweepers, clearing them represents weeks of hard labour. It only takes five fully grown trees to produce a million leaves. While primary school children collect a few handfuls of leaves for craft projects, most end up blanketing Lambeth's hundreds of miles of roads and pavements.
Red carpet
On a day when the leaves fall particularly heavily, a sweeper can fill a bag of leaves every few metres. If the leaves are wet, they're also heavy, feeling heavier and heavier as the day goes on. And every sweeper knows the pain of thinking they've cleared a pavement of leaves, only to turn around at the end and see a fresh carpet of them, newly fallen.
Making a clean sweep
That's why we take on an additional 28 sweepers every autumn to help. They're with us for around 10 weeks, sweeping up over 100 tonnes of leaves and helping our regular sweepers to keep on top of their normal schedules.
There are also two dustbin lorries arriving this week just for picking up the bags of leaves, and a large mechanical sweeping vehicle for the roads. The enhanced service concentrates on the roads with the most trees.
Leaves in your garden
If you've got a load of fallen leaves in your garden, you should either compost them or get rid of them using  Lambeth's garden waste collection subscription service, which will deal not just with your autumn leaves, but clear your garden waste (grass cuttings, hedge trimmings etc) all year.