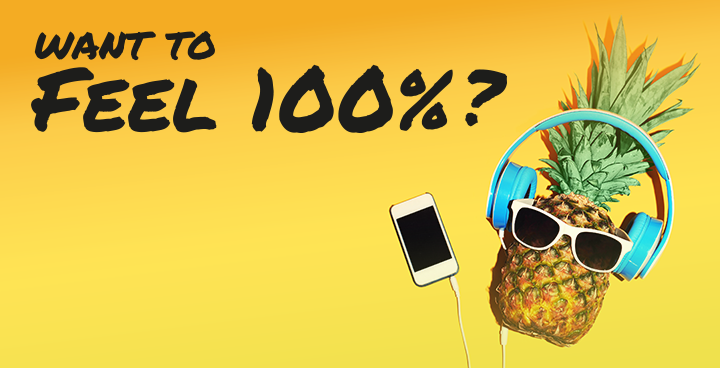 Calling all young people
Did you know that eating the right food can benefit the body and mind in lots of ways?
Healthy foods such as fruits and vegetables contains loads of vitamins and good nutrients which can help us feel 100% everyday. Take a look at some examples below…
---
Feel 100% focused
Stressed out and can't focus on that revision that needs to get done? Make sure you have a good breakfast. Also, try eating a sardine or salmon  sandwich for lunch – fish like salmon, sardines, mackerel and fresh tuna contain lots of omega-3 fatty acids which are good fats!
*Water is the best healthy drink!
Feel 100% energised
Got a big footy match tonight? If you need to perform but energy levels are low, try snacking on bananas or eating some wholemeal brown rice with lunch. These foods can release energy slowly throughout the day, which could keep you on top form.
*Remember: aim to have at least five portions of fruit and vegetables per day!
Feel 100% confident
Forever craving snacks and know you're often reaching for unhealthy things? Foods like unsalted nuts or oats can help keep you fuller for longer. Why not try having oats (such as porridge or muesli) and chopped bananas for breakfast and start your day healthy!
Feel 100% chilled out
Having your mates over? Instead of reaching for your usual takeaway menu why not make some homemade cauliflower crust pizzas with loads of colourful vegetables on top? Cauliflower is rich in vitamins and minerals.
---
So, how about making a few changes to your eating habits to help you reach your full potential? Eating healthy isn't all about munching on salad or  veg, it can be fun and tasty, and doesn't need to cost much. We have put together some downloadable goodies to show you how.
Remember eating a balanced diet is just one part of maintaining good health and feeling 100%.
Follow the links below for…
 
---
About the Feel 100% Food Flagship Campaign
 "Feel 100%", is all about helping 11-18 year olds in Lambeth understand how eating the right food can help them reach their full potential. By highlighting how different foods benefit the body and mind the campaign will help them make better, more informed choices. Young people in Lambeth can further get involved by taking up two week healthy food challenges, sharing their experiences on social media, or taking part in the "Feel 100%" photography competition to be in with a chance to win prizes.
"Feel 100%" has been designed with young people from the borough, who have contributed to the style and tone, with photography created by the young people in Lambeth being featured in the campaign materials.
Lambeth is one of two London Food Flagship Boroughs, the status was awarded in 2014 by the Mayor of London. Lambeth has a vision for all people living in the borough to develop a love of healthy, safe and sustainable food through implementation of the School Food Plan, promoting healthy weight through a range of measures and supporting the community to shape their local food system, including making healthy food more accessible and affordable.