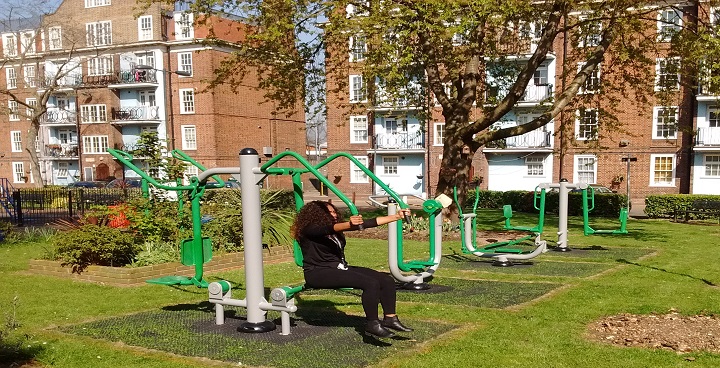 Edmundsbury Estate has just taken delivery of new outdoor gym equipment. Lambeth Council's Estate Pride team has had it installed on the request of the community. Resident Cherlyn explains how she wants people to use it to get fit for summer.
Fitness and friends
I've run keep fit sessions in the Community Hall for seven years. It's not just the fitness, but it's really good socially. We have someone who's not only got his waist measurement down by a third, he's made friends.  We already have a great community on Edmundsbury but this is another way of making us even more interactive. I guarantee someone will talk to you on an exercise machine in public.
Get outdoors and go to the gym
It's so easy to come home with the shopping and stay closed up in our houses. My son's always getting me to go out in the park, so I'll be setting an example. People spend money on gym membership but don't go. This is right on their doorstep. It's in the fresh air. It helps them relax and it saves money.
Find out how it works
I want to organise an induction day, or an evening and a weekend, like in gyms. I want to explain what areas of your body the equipment works on. There's two reasons for that. One is that you see people showing off, overdoing it, especially with weightlifting. The other is that we know people will be shy at first, worried that they're not using the equipment properly, worried about not exercising the right way in public.  We also want sign-up sheets on the tree so we can see how many people are using the gym.
Brain training
As well as exercise, Edmundsbury is starting more activities to build community interaction. Language lessons are expected to start by the end of April. The next step is an older people's club – who will definitely be encouraged to use the gym equipment.
---
If you  want to join the keep-fit classes, look out for Cherlyn's name and phone number on posters on Edmundsbury Estate.
For more information about Lambeth's Estate Pride team and the projects they work on to improve the environment on Lambeth Estates, please contact  Linda Elliott