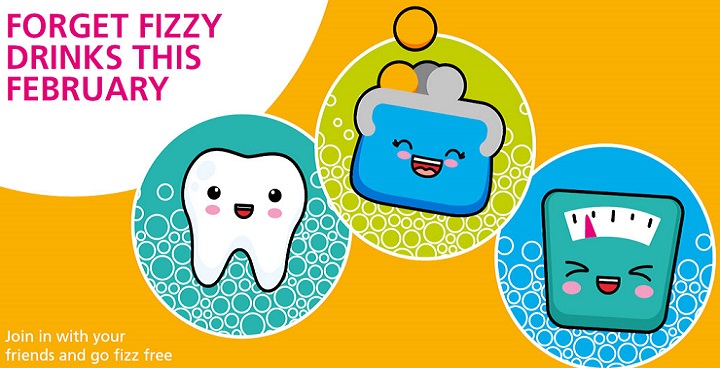 Fizz Free February is coming to Lambeth for the first time; will you pledge to #gofizzfree? Saturday 1 February 2020 marks the start of Fizz Free February, meaning time to ditch sugary drinks for 29 days! (it's a Leap Year).
Why do it?
 Fizz Free February is a great way to save money, lose weight and keep your teeth! You can reduce your sugar intake by cutting out fizzy drinks. Going fizz free all February can help you on your way to drinking less sugary drinks for the rest of the year too.
Daily calories
 Latest data from Public Health England on the nation's diet shows that sugar makes up 13.5% of 4- to 10-year olds' and 14.1% of teenagers' daily calorie intake. Official recommendation is no more than 5%. Lambeth aims to raise awareness of the health implications of fizzy drinks which often contain high amounts of sugar.
Sugar Smart Lambeth
Lambeth, like many inner London boroughs, has high rates of children and adults living with excess weight and obesity. Lambeth is a Sugar Smart borough taking action to tackle excess sugar consumption, including.
Promoting free drinking water
Reducing high sugar options in vending machines
Promoting healthy eating in all settings
Working with food businesses to encourage them to reduce sugar, fat, and salt in foods
Implementing wider policies and practices that align with the aim of reducing sugar consumption
Soft drinks, hard truth 
To join in, just pledge to give up fizzy drinks for 29 days and tweet #gofizzfree.
You can save £438 a year if you stop drinking one bottle of soft drink, per day for a year.
Just one 330ml can of sugary fizz a day could add up to over a stone in weight gain per year.
Tooth decay is the leading cause for hospitalisation among five- to nine-year olds in the UK: 26,000 children (500 each week) are hospitalised each year due to tooth decay.
Word from the Cabinet
Councillor Edward Davie, Cabinet member for Health and Adult Social Care, says: "I'm pleased to launch our first Lambeth Fizz Free February campaign. It's a fantastic way to cut down on sugar and make positive changes. I encourage everyone to take part in this initiative and help raise awareness around the risks of consuming too much sugar. Good luck to everyone going fizz free this February!"
 More information
The Fizz Free February initiative was launched by Southwark Council in 2018 in response to child and adult obesity rates.