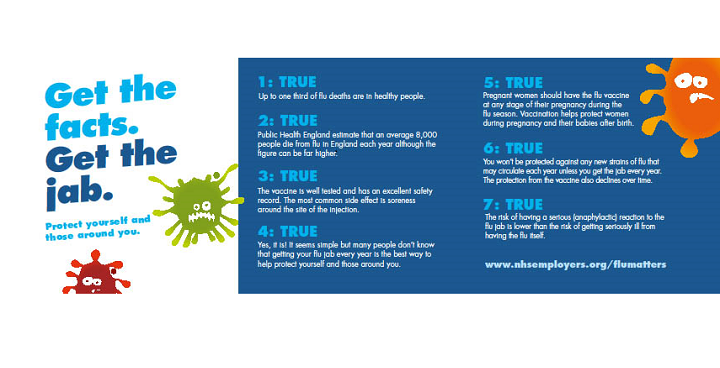 Seasonal flu is a highly infectious disease caused by a virus. It occurs every year, usually in the winter. Even those who had a flu jab last winter will need another one this year to stay protected.
All you need to do is:
Turn up at a local pharmacy in Lambeth
Show your work ID Badge to the pharmacist
State that you work for London Borough of Lambeth as a care worker, or that your organisation is commissioned by the London Borough of Lambeth as a care provider
There are a number of good reasons to get the flu jab, such as
You provide a valuable service. Your service users are reliant on you to be fit and well, and able to look after them
It stops you from passing the virus on to your service users, friends and family. Service users are usually at increased risk of developing serious complications from flu
It also protects you from catching the flu from your service users, colleagues, family and friends. This could disrupt your earning if you have to go off work with the flu.
Some facts about flu:
Flu isn't just a cold, it can be a really serious illness
The flu jab can't give you flu
Flu vaccines are among the safest medical products in use. Like any medical product, vaccines can cause side effects. These side effects are generally mild and go away on their own within a few days
The flu virus changes, so you need a flu jab every year
The flu jab protects people of all ages including those over 65 years of age
The flu jab is also recommended for those with long term medical condition
If you're pregnant, the flu jab doesn't harm your unborn baby. In fact it can protect your baby from flu for the first few months of life
People who look after others such as carers and care workers can protect the vulnerable people they care for by getting vaccinated
For any queries contact Lambeth Public Health service at Publichealth@lambeth.gov.uk