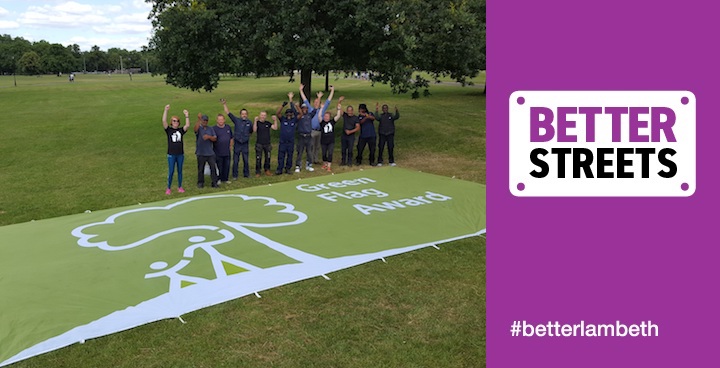 Clapham Common, which is Lambeth's biggest and most popular greenspace, joins fourteen other sites in the borough which already hold this coveted award. The Common is among a record-breaking group of 1,883 public greenspaces across the United Kingdom that today received a prestigious Green Flag Award, the mark of a quality park or open space, and so entitled to fly the Green Flag.
This international award, now into its third decade, is judged annually by experienced independent judges and is a sign to the public that a site flying a Green Flag boasts the highest possible environmental standards, is safe, welcoming, accessible to all, well maintained and has excellent visitor facilities.
In addition three other Lambeth sites secured a Green Flag Community Award in 2018, publicly recognising the contribution made by local communities in managing and maintaining an area of open space for the public benefit.
Lambeth's award winning sites for 2018 are:
Green Flag Award: Archbishop's Park, Brockwell Park, Clapham Common, Eardley Road Sidings Nature Reserve, Hillside Gardens Park, Kennington Park, Milkwood Community Park, Myatt's Fields Park, Palace Road Nature Garden, Ruskin Park, St. John's Churchyard, St. Paul's Churchyard, Streatham Rookery, Vauxhall Park and West Norwood Cemetery.
Green Heritage Award: Brockwell Park
Green Flag Community Award: Brockwell Park Community Greenhouses, Eden at St. Paul's Churchyard, and Windmill Gardens
Word from the Cabinet
Councillor Sonia Winifred, Lambeth's Cabinet Member for Equalities and Culture, said "I'm absolutely delighted that Lambeth now has fifteen Green Flag Awards, as well as three Green Flag Community Awards, which is yet another increase in the number we have in the borough.
"I'm especially pleased that Clapham Common has secured the right to fly the Green Flag at its first attempt. The Common is such an important and popular place not just for our own residents, but also those of our neighbouring boroughs as well as visitors from across the whole of London and even the world. Working with the local community we have ambitious plans to make Clapham Common even better for all to enjoy, as we have for all of the borough's other parks and open spaces.
"We know how important quality parks, commons and other open spaces are to our residents, and Lambeth's growing collection of awards is a public celebration of the dedication and hard work being put in by them as well as our own staff towards maintaining them to the high standards that are expected by Green Flag Award."
'Honoured'
Simon Millson, Chair of Clapham Common Management Advisory Committee (CCMAC), said: "We are honoured to be presented with a Green Flag Award. It is a tribute to the hardworking volunteers working constructively in partnership with Lambeth Council who make Clapham Common a jewel in the crown of our local community.
"We have made excellent progress over recent years upgrading facilities and improving the way the Common is managed and we have plans for further developments, ensuring we have a thriving and treasured Common today and for future generations to come."
'Tireless work'
International Green Flag Award scheme manager Paul Todd said: "We are delighted to be celebrating another record-breaking year for the Green Flag Award scheme, with more Green Flags awarded this year than last year."
"Each flag honours the thousands of staff and volunteers who work tirelessly to maintain the high standards demanded by the Green Flag Award. We are proud to have so many wonderful green spaces in the UK for people to enjoy, and hope that next year, we award even more flags."
For a list of all Lambeth's parks, and more details on what they have to offer, see the council website.