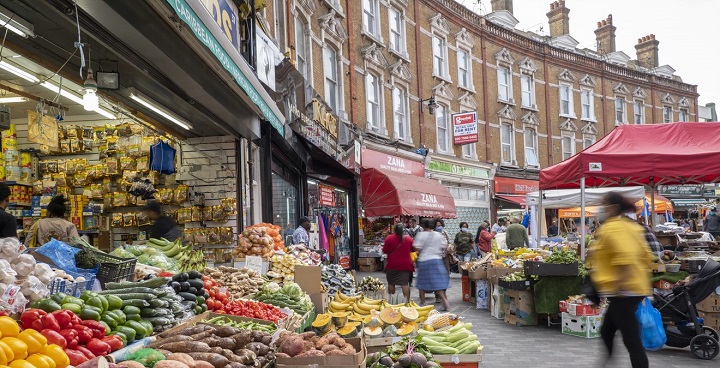 Lambeth Council was one of the successful bidders in the Mayor of London's Food Roots Incubator Programme. Now we will be working in the borough to develop our food partnership. We want to bring residents, businesses, and the Statutory, Voluntary & Community sectors together, all working towards to help create a food system that gives everyone access to healthy, affordable food, and can make food choices that nourish themselves, their community, and the environment.
Addressing food insecurity
We hope to develop a strong multi-sector group of residents and organisations whose members reflect Lambeth, with its diverse local needs, and which will support a sustainable model to grow, diversify, and become more resilient across the borough. It will address the issues that drive food insecurity – many of which have recently been made worse by the COVID-19 pandemic.
Healthy food initiatives
With the help of the Food Roots Incubator programme, we want to expand on all the good work already happening in the borough, to amplify collective action where people are working together, and to encourage healthy food initiatives.
Word from the Cabinet
Councillor Jim Dickson, Cabinet Member for Health and Adult Social Care said: "We're seeking to build a strong and resilient food partnership for the borough, one that is joined-up and committed to collaboration between individuals and organisations across every sector and at every level of the food system – from community grassroots and third sector organisations to businesses, statutory groups and council leaders.
"The London Food Roots Incubator programme is a great opportunity to re-build and strengthen a Lambeth food partnership and to be better equipped to respond to the structural drivers of food insecurity and inequalities.
"As the saying goes: if we want to go fast, we walk alone but if we want to go far, we walk together!'
Join the group
We're inviting all those interested in the local food system – from production, through distribution, education, and consumption (eating), and on to waste and recycling. We want residents and organisations who want to be a force for change to join us so we can form a strong group and help improve food in the borough.
If you would like to be part of this exciting local work, please contact us by 23 July, 2021 at foodhubs@lambeth.gov.uk or contact ECtori@lambeth.gov.uk if you would like to speak with someone about how to join.
(photo by Sam Mellish)