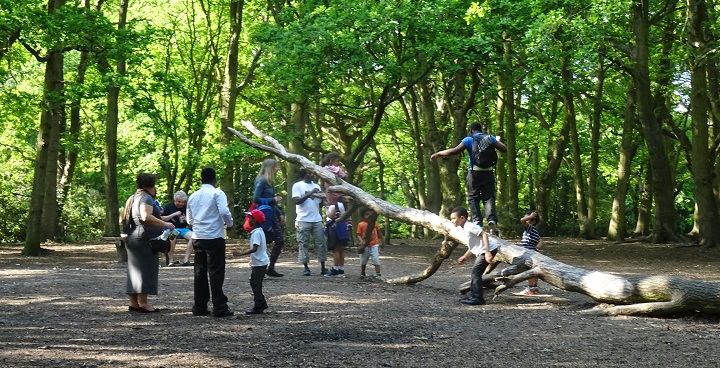 Parents on Fern Lodge Estate have a new way to get five-year-olds on their best behaviour: "If you're good, you can go to Forest School." Forest School is led by Nature Vibezzz, which was co-founded by professional educators Douglas Saucedo and John Cannell.
The buzz about Vibezzz
"We're a not-for-profit organisation," says Douglas. "We registered with Companies House about 18 months ago. As a start-up, we haven't got an office – so when Fern Lodge TRA offered us the use of the Village Hall, we were grateful. They also donated lots of toys for rainy days when we can't get out.
Outdoor school
"On Wednesdays after school we take children over to the woods opposite, at the top of Streatham Common. Last week we taught them to make fire and toast marshmallows – but we also taught them about being responsible and not letting the fire get out of control. We've taught them how to build a shelter, but we also teach them teamwork, the younger and older ones working together. Outdoors gives children a bigger space to use their imagination. There's no 'I can't do that because I live on an estate'.
In the wild and in the garden
"Fern Lodge TRA was very keen to get Forest School children involved in starting a vegetable garden last year. At first they thought they needed to put fences up to protect it from vandalism, but the evidence shows that if everyone puts in a little bit, everyone owns it, no-one wants to break in and we've got a whole lot of children who, when you say "where does food come from?" don't answer 'Tesco's' or 'Sainsbury's.
Rule of the school
"I always say Forest School has only one rule, and that's 'listen'. It's a skill humans need to learn to practice. And there's another thing that's s not a rule, but a goal – 'try to leave it better.' We go out with black bags and litter pickers and tidy up the woods and the Common, but next week, when there's other people's litter, the children get upset.
Parental praise
"Children who live in London need a special way to learn about 'outside' – and that's what Douglas has," says one of the parents, Helen M. "They're not all Fern Lodge kids; some come from neighbouring estates and from other schools where he works, but they're all socialising and singing together coming back from Forest School."
---
Nature Vibezzz are working in partnership with Lambeth Council to restore Knight's Hill Wood to native woodland
Nature Vibezzz  run regular 'Fathers in Nature' project to give Dads and kids quality learning time together, focusing on practical on outdoor projects
To find out more on the Nature Vibezzz website.