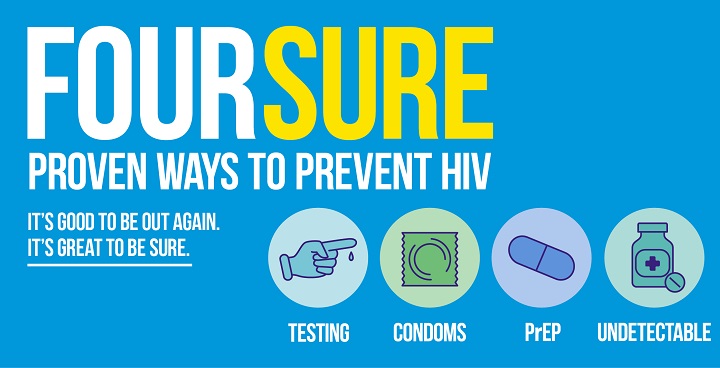 The Do It London campaign, delivered by the London HIV Prevention Programme (LHPP) and supported by London boroughs, will be visible across a range of outdoor advertising billboards in Lambeth and across the capital in the coming weeks, marking the start of a summer of increased social interaction.
Four sure methods
The 'four sure' methods of preventing HIV are:
Public health challenge
HIV remains a major public health challenge in London. The latest figures show an estimated 37,000 Londoners are living with HIV.
Successful online campaign
 The decision to relaunch the previously digitally focused campaign is based on very positive evaluation feedback and impressive engagement metrics it achieved earlier in the year. The initial 'Four Sure' campaign, which ran between December 2020 and February 2021, drove over 250,000 page views to the educational Do It London website, which carries information about each method of prevention. Furthermore, over 540 home testing HIV kits were ordered as a result of the campaign.
Zero infection 2030 target
As London strives to deliver its ambitious target of zero new HIV infections by 2030, regular testing will be crucial in ensuring the estimated 2,000 Londoners living with an undiagnosed HIV infection are identified. This 'Four Sure' campaign spreads the message that HIV is preventable, that an HIV diagnosis is treatable, and that such treatment acts as prevention.
Paul Steinberg, Lead Commissioner of the London HIV Prevention Programme, said: "The huge advances in HIV testing, treatment and prevention in recent years have
underpinned the significant reductions we have witnessed in new diagnoses across London.
"As society emerges from lockdown this summer, we want the public to be aware of the scientifically proven ways to prevent HIV and take the right steps to protect themselves against infection."
 More information
For more information about HIV combination prevention, including direct links to sexual health services, see the Do it London website. The website also contains an updated section about how to reduce the risk of Covid-19 infection when having sex.