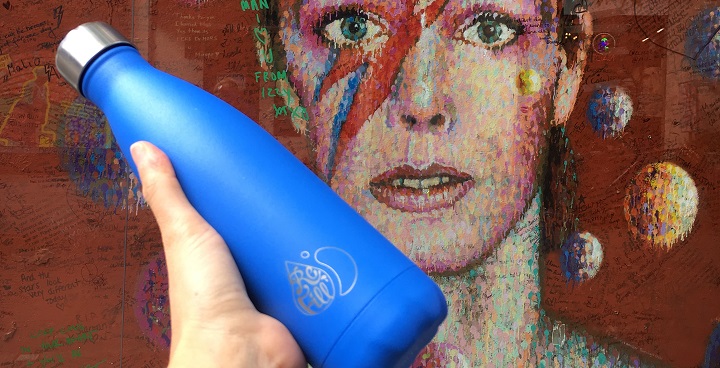 What if Bowie sang "Planet Earth is blue and there's something you can do"… to protect it? A Refill scheme in Brixton encourages cafes, bars, restaurants, galleries, museums and other businesses to sign up to the free Refill app and put a sticker in their window welcoming passers-by to fill up their bottle for free.
City to Sea
The average adult buys at least 3 plastic water bottles every week – a startling 175 every year. In total, some 7.7 billion plastic bottles bought across the UK each year result in substantial single-use plastic waste in our oceans. City to Sea, a not-for-profit organisation headed by campaigner Natalie Fee, launched Refill in 2015, aiming to cut plastic bottle use by tens of millions each year.
Positive customers
Leonie Watson, Local Coordinator for Refill Brixton, explains why both businesses and their customers should get involved: "Here in Brixton we're rightly proud of our electric atmosphere and edgy appearance but single-use plastic bottles make up 10% of litter in the Thames. Refill Brixton gives us all the opportunity to make this a thing of the past. It's good business sense with customers more likely to return to Refill places to eat or shop. We're blessed with incredible water quality, now it's time to make it easier to access on the go."
Word from the Cabinet
Cllr Claire Holland, Deputy Leader of Lambeth Council and Cabinet Member for the Environment and Clean Air, said : "Community-based refill schemes have already put thousands of refill stations on the map. We are proud to see Lambeth's local businesses support this initiative and working together to stop single-use plastic water bottles and plastic pollution at source."
Windrush water
Refill's launch event on Saturday 31 August is next to the recently installed water fountain in Windrush Square. The community will be able to download the app, find free tap water refills nearby and learn about volunteering opportunities.
Helping land and water
Natalie Taylor, Refill London Coordinator, says "Every time we refill a bottle we help keep streets and open spaces tidy too. Refill Brixton are making waves in the area with many businesses becoming Refill Stations" Water UK say: "We're passionate about tackling the problems caused by plastic bottles, which clog up rivers and drains, and pollute our seas. By refilling water bottles, we can all help turn this harmful tide."
Visit the Refill website to download the free app and find out more about the Refill movement.
Follow Refill Brixton @refillbrixton on twitter, Instagram and facebook.
For more about City to Sea see their information page