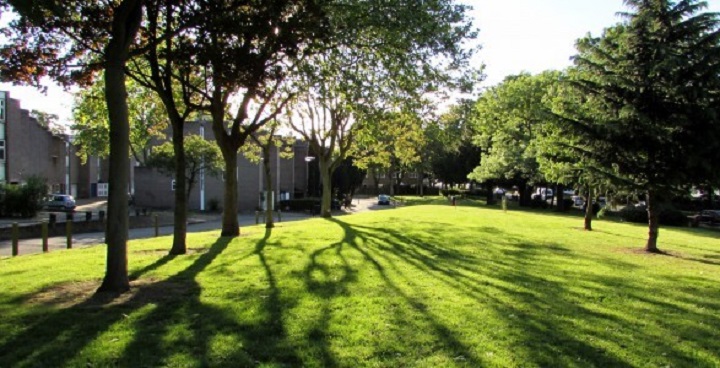 Lambeth's Neighbourhood Housing Officers worked with Palace Road residents to   draw up a waste management plan for the litter, rubbish, recycling and bulky waste needs of the estate. Now, effective changes to the nuts and bolts of collection, recycling and timing of collection are proving so successful that we plan to recycle the approach on other estates.
Problems and solutions
Before the consultation and waste management plan, Palace Road residents faced issues with recycling, rubbish left on bin chamber floors, food waste and bulky waste. The estate is a mixture of blocks and houses, meaning one size definitely didn't fit all.
New arrangements mean residents can phone Pinnacle (cleaning contractors) to arrange an appointment to collect bulky waste (old furniture, etc).
Elderly or disabled residents can ask for collections from their front door. This means any bulk waste found on the estate without an arrangement will be treated as fly-tipping and offenders can be prosecuted.
Working together with Veolia (waste disposal contractors) we provided residents of Coburg Crescent (part of the estate made up of mainly houses) with new green wheelie bins for rubbish and a new food waste bin and kitchen caddy to encourage more recycling.
New signage deterring dumping.
Great detail
Palace Road Estate Residents' Association (PRERA) said. "We worked in great detail with the council and Veolia to make sure that our waste management plan wasn't generic, but tailored to helping people here to make positive changes. We needed letters in Plain English, changes to messages that said 'put bins out in gardens' when we don't have gardens, and reassurance that bulk waste collections didn't create fire risks."
Follow-up Spring 2019
Lambeth will measure the impact by weighing recycling, and follow up the changes to increase recycling on more estates. Residents on 10 more estates are involved in developing waste management plans to be delivered in Spring 2019.
Estate review
Lambeth's approach is to work with residents to understand what works and introduce changes that all can learn from.  If you're a resident of a Lambeth estate and want to work on a holistic review of the litter, rubbish, recycling and bulky waste needs, please contact your Neighbourhood Housing Officer.
For more information
For details of Lambeth's waste collection and recycling services, including bin collection days, bulk waste, recycling and food waste, reporting fly-tipping,  see the council's information pages