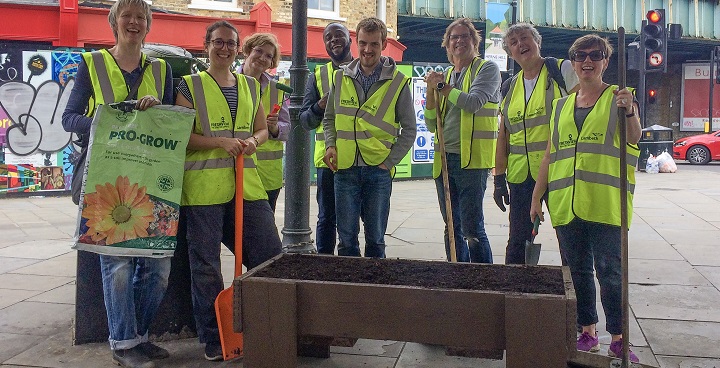 Lambeth Council and Veolia's Freshview scheme teamed up with Herne Hill Forum to install 10 new planters around Herne Hill's Station Square.
Scaffolding recycled
The planters were built over two sessions on Wednesday 15 and Monday 20 May. Local residents, traders and schoolchildren volunteered time to help build the planters from recycled scaffolding boards.
Word from the Cabinet
Cllr Claire Holland, Lambeth Council's Cabinet Member for Environment & Sustainability, said: "As a co-operative council, it's fantastic to see a range of stakeholders at Herne Hill come together to improve their local environment. Freshview has been running for 12 years and we continue to encourage residents to come forward to explore different ways we can support them to improve their local area."
Painted and filled
Pupils from Turney Special Educational Needs and Disabilities (SEND) school painted the planters which were then filled with Veolia's Pro-Grow compost. This peat-free compost is made from garden waste collected from Lambeth and London homes.
Perfect partners
Jasia Warren, Project Manager for the Herne Hill Forum, said: "Freshvew were perfect partners. We couldn't have done it without them! They provided the tools, soil and know-how to enable the community to come together. We're looking forward to putting the plants in and making Herne Hill look blooming lovely."
Circular economy
Steve Verrier, Veolia's Senior Contract Manager, said: "Freshview is a great example of the circular economy. We collect and recycle food and garden waste into compost for community projects. The planters are made from boards that would have been thrown away: it's great to be involved in projects that preserve and reuse valuable resources."
Footfall
The planters are for Dulwich Road and Station Square, the open space outside Herne Hill Station. The area was semi-pedestrianised in 2012 to alleviate traffic congestion. Station Square receives high levels of commuter footfall with almost 3 million entries and exits last year.
For more information