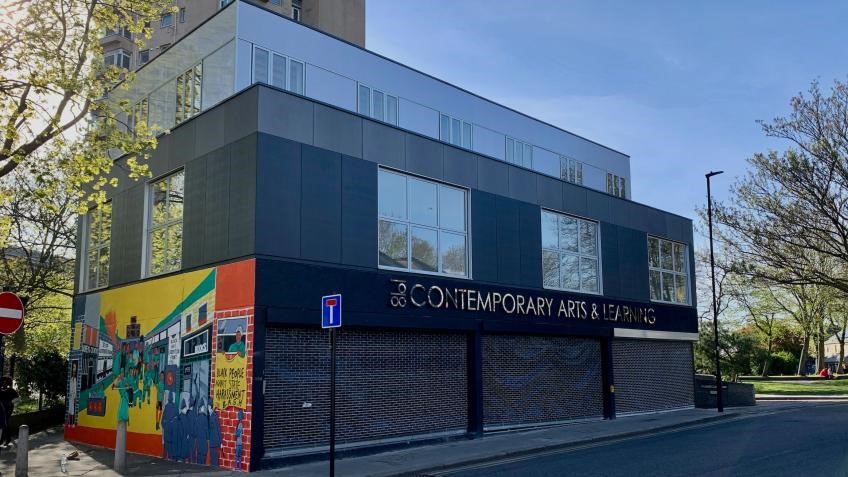 The Future Workspace Fund is Lambeth's £8 million capital fund which is investing in affordable and supportive workspaces across the borough over 5 years. The Fund aims to facilitate 144,000 sq ft of new or enhanced affordable and supportive workspace to benefit at least 640 businesses each year and protect at least 1,900 jobs in our priority sectors of the creative and digital industries, life sciences and low carbon.
The Fund was launched last year, with four investments made through the first round at a total of £2 million.  Together, these investments are set to secure nearly 70,000sq ft of new or improved workspace that will benefit 258 businesses every year and support 960 jobs in Lambeth. Each investment also secures a number of social value outputs such as delivering educational workshops with local schools or community groups as well as providing affordable workspace to maximise the impact of the investment.
Cllr Matthew Bennett, Deputy Leader and Cabinet Member for Planning, Investment and New Homes, said: "I am delighted with the results of the initial round of the Future Workspace Fund, which is already helping to support Lambeth's thriving priority sectors.
"Lambeth's artists, creators and innovators have struggled during the Covid-19 pandemic and need to be supported. The Future Workspace Fund is part of our long-term strategy to safeguard and grow affordable workspace in Lambeth so our residents, entrepreneurs and established businesses can access affordable space within their home borough."
The first four organisations to benefit from the Future Workspace Fund are:
Sustainable Workspaces – County Hall
Sustainable Workspaces is the UK's leading incubator of early stage sustainable businesses, leading London's shift towards a low carbon economy.
Their development of around 45,000sq ft of space which has been unused for nearly 40 years will see the iconic County Hall become Sustainable Ventures' HQ and flagship site as the epicentre of Europe's largest sustainability hub in SE1. The space will support over 100 sustainable businesses and will provide business support, as well as access to investors and expertise across the sector.
The project is co-funded by Big Issue Invest and has already attracted over 50 low carbon businesses to Lambeth.
Ten87 Studios is a musical community open to all. They provide affordable, high-quality, long-term let recording studios where creators can connect and grow.
Through co-investing alongside Nesta, the council is enabling Ten87 Studios to take over the basement of the new Brixton House development on Somerleyton Road.
The 25-30 studios provided in the basement of the development will house a thriving community of established audio professionals and emerging local talent and provide access to affordable and high-spec recording and production studios, benefitting up to 40 businesses and supporting 110 jobs.
198 Contemporary Arts and Learning
198 Contemporary Arts and Learning (198 CAL) is a pioneering, black-led, arts, creative and cultural organisation which nurtures and supports the careers of young Black, Asian and Minority Ethnic artists, curators, creatives and entrepreneurs and has done so for over 30 years.
198 CAL have raised £1.2 million to construct two new floors above the gallery at 198 Railton Road in Herne Hill. This expansion has allowed 198 CAL to provide new workspace on the 1st floor and a dedicated youth hub on the 2nd floor. The works have also allowed the refurbishment of their existing gallery space to allow them to continue to present 6 shows annually to the public and showcase  new and exciting artists.
The grant from the Future Workspace Fund has allowed 198 CAL to finish their works at the site, creating 2,530 sq ft of workspace, benefitting 10 businesses and supporting 26 jobs.
Artist's Studio Company – 47c Streatham Hill
Artist's Studio Company (ASC) is the leading charitable provider of affordable artists and makers workspace in Greater London and has been in operation for over 27 years.
Since 1993, they have developed 22 buildings totalling over 445,000sq ft and supporting over 8,000 artists. They have numerous studios across the city, and currently provide affordable space to 342 artists and makers across 3 buildings in Lambeth. However, ASC will lose 2 of these properties to development in the next 2 years.
The Future Workspace Fund has provided £200,000 to ASC to allow them to purchase their property in Streatham Hill and make improvements to it. This allows them to safeguard this space for 59 artists and makers and safeguard the affordable rents these studios are currently provided at.
Cllr Bennett added: "Lambeth Council believes in supporting small businesses to establish themselves with sustainable, affordable workspace can ensure the borough attracts and retains the finest creative talents and innovators in low carbon or life sciences in the capital.
"We have prioritised investment in creating office space in under-utilised buildings as well as supporting the creation of new creative workspace across the borough. This is the first step in delivering on our ambitions to enable growth and opportunity for everyone."
For more information visit our Future Workspace Fund website