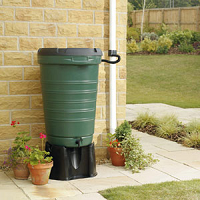 As soon as the sun starts shining, we start using more water in our gardens but this needn't come from the mains; a water butt is a great way to save water and maintain your flowers and food crops. On average a water butt will collect 1,380 litres of rain water a year. Not only is it a free resource, it's better for your plants as it contains more nutrients than tap water.
Water butts are very easy to install – you can connect them to down pipes from your house or from out buildings such as greenhouses or garden sheds.
All Lambeth residents are entitled to discounted water butts through www.getcomposting.com. There are two sizes available:
The 100 litre butt kit is suitable for smaller gardens and patios.
The 190 litre butt kit is suitable for larger spaces.
Both kits come with everything you need to set them up and are also in the Buy One, Get One Half Price offer, so you can team up with a friend or neighbour to make a larger saving.
You can also keep an eye on sites such as Freecycle of Gumtree for free or secondhand water butts or even make your own.
Some useful garden water-saving tips
Water your plants early in the morning or in the evening to avoid unnecessary evaporation.
Choose plants that need less water such as Lavender
Place mulch around the base of plants to help soil retain moisture
Cut your lawn less frequently to keep it green and healthy throughout the summer months
Other useful ideas
Compost bins and wormeries – in addition to water butts, www.getcomposting.com have a range of compost bins and wormeries starting at £14.98.
Depaving – there are many benefits in replacing concreted areas in your gardens with a more permeable surface like soil, gravel or woodchip. Read our handy depaving guide for more information