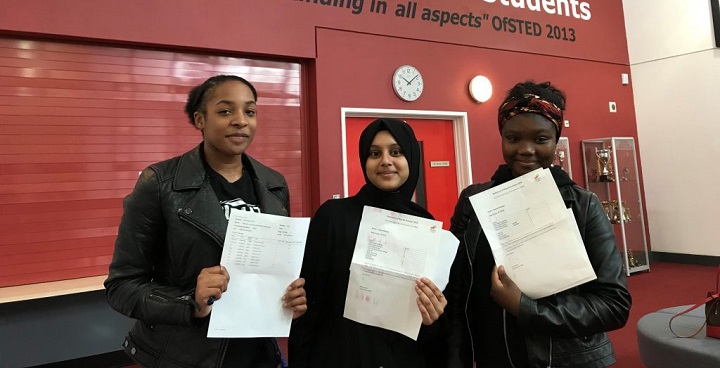 Students across Lambeth were collecting their GCSE results  and considering their next steps into further education, training or an apprenticeship. Lambeth Council offered congratulations and support to the borough's teenagers as they assess their options after results day.
Reformed system
The vast majority of results collected by pupils were graded from 9 to 1 under a reformed system introduced for maths, English language and English literature last year.  However, this year the 9 to 1 grades – rather than the traditional A*-E grading – have been used in 20 more GCSE subjects, including the sciences, history, French and drama. Grades 9-4 are equivalent to the old Grades A*-C.
Braving the rain
Pupils at Lilian Baylis Technology School in Kennington Lane, Kennington were among students across the borough braving the rain to collect their GCSE results on Thursday morning.
Favourite subjects, proud results
Nakaira Satchwell, 16, from Kennington, who took 10 GCSEs, said: "I'm proud and happy about how I have done. I did work hard and it has paid off. I plan to stay here for sixth form to do A-Levels, and then maybe an apprenticeship in computer science or maybe university. "My favourite subject is Maths and I got an eight (formerly an A*)."
Feyi Balogun, 16, from Croydon, who took 10 GCSEs, said: "I did well and I'm feeling really good about it this morning. It was hard studying, it was a lot of work every day. But the school was very supportive and now I plan to do A-Levels and then hopefully university after a gap year. I am considering going into forensic science as a career, but not sure yet. My favourite subject is chemistry which I got a 7 in (formerly an A grade)."
Tanjia Rahmen, 16, from Kennington, who did nine GCSEs, said: "I did really well with my results today, I'm shocked. I did put in a lot of hard work and it was a long process so I'm glad it's finally over, for now anyway. I plan to do A-Levels at this sixth form and then I'll decide what career I want, but at this point I'm sure I want to go to uni. My favourite subject is Maths and I got an eight (formerly an A*)."
Ilhan Ahmed, 16, from Kennington who took 10 GCSEs, said: "I've done really will and feel really happy with my results. I wasn't expecting it; I worked hard and it has paid off. I was stressed coming here this morning, but I've ended up doing better than I expected. They've been really supportive here, especially through the new style GCSEs. I'm going to do A-Levels next at this sixth form and then hopefully onto university. I'm interested in psychology, but we'll see what happens. English is my favourite subject and I got a 9 (equivalent to an A** grade)"
Saabir Abdi Salad, 16, from Kennington, who took 10 GCSEs, said: "I didn't think I do this well, but have got As, A*s and one B. My dad really helped me by encouraging me a lot and doing everything he could to support my studies. I'm planning to do A-Levels at this school and hopefully on to uni. My favourite subject is Maths and I got a 9 (equivalent to an A** grade)."
Muiz Oteju, 16, from Camberwell, who did 10 GCSEs, said: "I think I've done well, better than I expected, actually I was shocked when I got my results. My target grade was 6s, but I have got more than that in most subjects. I'm going to do a level three engineering course at college and want to carry on doing engineering through university, but I'm not yet sure what I want to do after that. The school has been very good, they make sure you do well and push you to be the best you can. Sciences are my favourite subject and I got three 7s (formerly grade A)."
Word from the Cabinet
Cllr Jennifer Brathwaite, Deputy Leader of the Council (Children and Young People) said: "I want to congratulate all the young people in Lambeth who have received their GCSE results today. We know how much hard work goes into studying for GCSEs and these excellent results are the reward for the effort and commitment of pupils, their families and our schools. And they are also a critical step on each young person's journey towards their future careers, whether they plan to go to college or start work now. I wish all our pupils every success – and I want them to know that we'll do everything we can to help them fulfil their potential."
---
For more information
Ofqual's Guide to GCSE results for England, 2018, is available on the Government's website