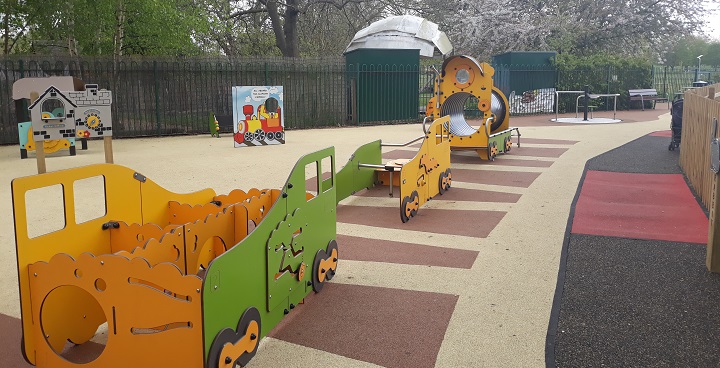 Clapham Common Playground has won a PiPA (Plan inclusive Play Areas) Gold Award for its inclusive new design and play equipment.
Refreshed and revived
 The much-loved children's playground off Windmill Drive re-opened in February with inclusive and safe new play equipment. PiPA judged it "A well thought out design that used the PiPA checklist as part of the design process. It will provide an Inclusive Play area for the whole family to enjoy. There are also some fantastic improvements being considered for the continual improvement of the area, with a refreshment kiosk hopefully on the agenda."
Word from the Cabinet
Cllr Sonia Winifred, Cabinet Member for Equalities and Culture, said: "I'm delighted to see this official recognition of Clapham Playground added to positive community feedback. Ever since children started enjoying the new equipment and layout, families have been in contact to say how outdoor play helped them deal with the pressure of lockdown. The ward councillors played a huge part in making this project happen and winning Lambeth's first award for designing an inclusive playground. Lambeth's parks continue to be an essential support network for people's health and wellbeing as we recover."
Gold Standard
PiPA Gold Accredited sites must score an overall 95% to 100% on the Inclusive Play six-point Checklist. This can be used to audit both new play space design and existing play areas. The checklist demands play space that meets at least three from the 'Six Senses of Inclusive Play' Wheel to ensure all children benefit. In Clapham playground, this includes:
Places and equipment for sliding, climbing, spinning or swinging to get the whole body involved in Dynamic Play
A wildlife area with flowering bulbs to engage the sense of smell
Several pieces of musical play equipment to engage children's sense of hearing
Open space with no equipment for children to play imaginative games together, and
Places to rest and recover in between active play.
More Information
PiPA© was created in partnership with Inclusive Play, KIDS disabled children's charity, and occupational therapists. PiPA© was hailed as a best practice document for playground design by the UK Design Council. For more details see their web pages
Despite the pandemic and lockdown regulations to prevent the spread of Covid-19, Lambeth Council was determined to finish the work and keep essential outdoor play available for local children. For more details see the Council web pages.
A plaque to mark the PiPA Award will be installed in the playground, hopefully at an official event open to everyone.