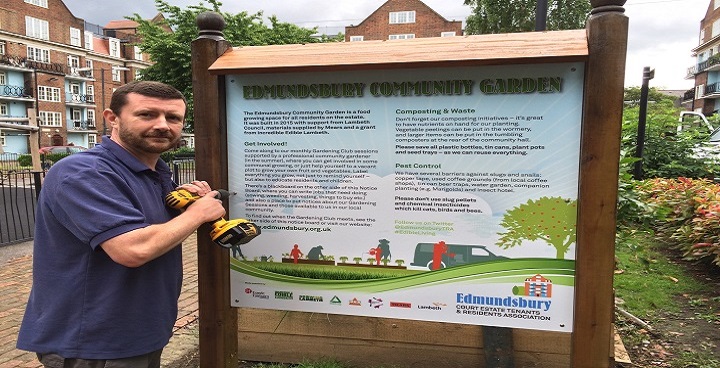 The Western Riverside Waste Authority (WRWA) Golden Ticket scheme offers prizes – and grants – for 'Recycling Right'. Prizewinner and TRA Chair Jonathan Harbourne explains how Edmundsbury Estate put the money to good use in their community garden.
Mess and messages
"We spent the money on getting an area cleared to create a composting area, bought two tumbling composters (from eBay) and a wormery. We built two cold composters. We also invested in information to engage residents in our food growing and composting initiatives: this included our hand-built (by a volunteer) notice board in our community garden – a chalk board on one side and printed on the other. Everything is signposted.
Waste and worms
"The two cold composters take garden waste – and we don't expect to see any compost until spring. The tumbling composters are breaking down food waste over two or three months, and the wormery is now producing some lovely compost for our garden. It doesn't have much capacity (probably enough for one family) but it's great for the kids. Some people religiously empty their food waste into the wormery and tumbling composters. We don't have food waste collection on the estate.
"If everybody starts composting, we will need more composters. Maintaining a community garden needs as much compost as we can get – and I don't have a car to collect large bags.
Winning awards and planning ahead
"We won best Food Growing Project in the 2016 Lambeth Community Pride Awards and runner up Best Community Garden. Next year we want to develop our pond, which has frogs – great for keeping the bugs away, and we want to build trellis for espalier apple and pear trees along the back of our raised beds."
About the Golden Ticket Scheme
WRWA has just relaunched its Golden Ticket prize draws, giving all residents the chance to be rewarded for recycling right. Prize draws are on 16 December 2016 and 24 March 2017. One lucky winner in each of 4 London boroughs receives a £500 cash prize and can nominate a local community group for a £2,500 community reward. Eight more residents win £250.
How can I win?
For a chance of a £500 or £250 cash Prize fill in your contact details on the front of a Golden Ticket and pop it into your recycling. The more you recycle, the more tickets you have in the prize draw. You can order extra Golden Tickets or print your own Golden Tickets.
For more information about rubbish collections and recycling.
For more details of the new 3-bin recycling service.