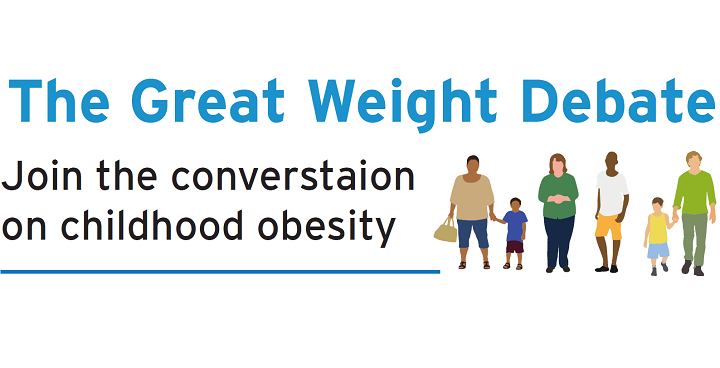 We would like to invite Lambeth residents to share their views on how children in the borough can be supported to lead healthier lives as part of a new London-wide campaign.
The London Borough of Lambeth has joined councils and NHS organisations across London to launch the Great Weight Debate – a London conversation on childhood obesity.
As part of the campaign, we are encouraging residents to complete a short survey to share their views on childhood obesity and what you think can be done to tackle it in our borough.
Why are we concerned about childhood obesity?
London has more overweight and obese children than any other global city, including New York, Sydney, Paris or Madrid. It also has a higher rate of obesity than anywhere else in the country with more than a third of all children in London overweight or obese by the time they leave primary school.
How is Lambeth tackling childhood obesity?
Lambeth has a strong track-record as the only borough in the country to see a reduction of childhood obesity rates in both reception and year six children from 2008/09 to 2012/13. We want you to help us to improve in Lambeth and explore how our strategies might be used across London.
How can I have my say?
As part of the conversation a 'Great Weight Debate' roadshow will be travelling to different parts of the capital and will be coming to Brixton's Windrush Square on 26 October from 1:30pm. Families will be invited to contribute to discussions on childhood obesity and take part in exercises and outdoor games.
This will be followed on 2 November by the Great Weight Debate discussion about Lambeth's successes to date in tackling childhood obesity and how these strategies can be used across London. This event is open to all, please book your FREE place for the Great Weight Debate.
Complete The Great Weight Debate survey online (should take no more than 5 minutes).
The views and ideas put forward will be used to inform the Great Weight Debate's work towards making tangible changes at a community and London-wide level.
---
Word from the Cabinet
Councillor Jim Dickson, Cabinet Member for Healthier and Stronger Communities: "Let's have a conversation about childhood obesity. We would like as many residents as possible to have their say; parents, carers, grandparents, young people, community groups and schools.
"We have already made a lot of progress on this issue in Lambeth, and want to make sure that we are doing everything we can. Together we can make a real difference to the health, lives and futures of the children in Lambeth and across London."