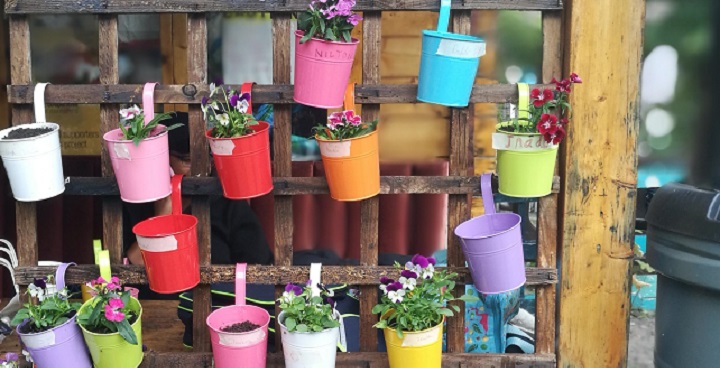 The Our Space Award grant scheme encourages communities to take ownership and pride in local spaces.
Open spaces
Community groups can apply for a grant between £500 and £5,000 to create or improve any open space – a park, housing estate, town centre, woodland, school grounds etc.
Groundwork London
The scheme is sponsored privately and administered by the social and environmental regeneration charity, Groundwork London. It launched in spring 2018 to support projects which promote active community participation.
Oval Triangle
One Lambeth project that already successfully used Our Space Award funding is the Triangle Adventure Playground in Oval.  Only a mile from Westminster, Triangle Adventure Playground acts as an inner-city haven with greenery and open space for children to play, learn and develop. The Playground was awarded £950 to enhance biodiversity with living green walls.
Four walls
Adults and young volunteers from the local community came together to create four different types of green walls, including coloured metal pots with flowers hanging on a reclaimed trellis, and vertical felt pockets planted with herbs and lettuce.
Pride and ownership
Juliet Hobday, project coordinator, explains how the green walls have created a sense of pride among the children: "They feel ownership when they're planting. They have their names labelled on the plants too which encourages them to water their own plants.  The children took plants home and regularly update the Environmental Playworkers on how their plants are doing and ask for advice.
Use the space
"Many of the adult volunteers were inspired to garden at home; even if they only have a small balcony, as the vertical gardens utilise space so efficiently, as well as providing food and brightening the home."
Community involvement
The project used Twitter, Facebook and posters to engage with the community. The planting day was the highest attendance ever for a themed summer session!
For more information
The Our Space Award has supported 45 London projects with £105,000 in grants. To apply, visit their web pages Closing date for applications is 5pm Monday 25 March. If you have any questions about your project and the grant funding criteria, email
Groundwork London is a social and environmental regeneration charity. For almost 20 years we've been at the forefront of environmental and social regeneration in London; changing places and lives for the better. See information pages, follow us on Twitter or Facebook