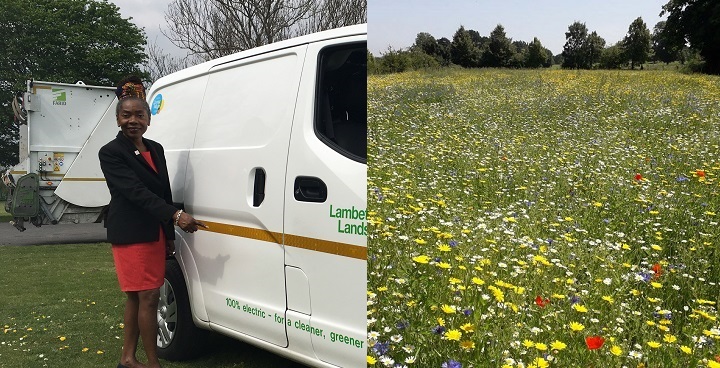 Vauxhall Pleasure Gardens is now recognised through the Green Flag Award Scheme as being one of the best public open spaces in the world.  Ahead of winning the award Vauxhall Pleasure Gardens has undergone a series of landscaping improvements, as well as improvements to how it is being managed and maintained through a partnership of council and community, especially with the Friends of Vauxhall Pleasure Gardens.
Word from the Cabinet
Councillor Sonia Winifred, Lambeth's Cabinet Member for Equalities and Culture, said "I'm absolutely thrilled with the news that we've successfully secured a new Green Flag for Lambeth in 2019, adding to the fifteen that we already have flying. I'm delighted that Vauxhall Pleasure Gardens has achieved this at the first attempt. I'm especially pleased for the Friends of Vauxhall Pleasure Gardens as this recognises what they have done and are continuing to do in order make Vauxhall Pleasure Gardens better for everyone in the local area and Lambeth as a whole.
Partnership with residents and other stakeholders
"As a council we're seeing the benefits of working in partnership with our residents and other stakeholders to deliver parks and open spaces that are amongst the very best in London, the UK and even across the world. Each Green Flag Award is a public celebration of the dedication and hard work being put in by our residents, local volunteers who give their all, and our own staff towards maintaining them to the very high standards that are expected not just by Green Flag Award, but also the public themselves."
Green flags
Lambeth's sixteen sites are among 1,970 UK parks and green spaces and 131 in thirteen other countries around the world that will today, July 16, receive a Green Flag Award. This is the mark of a quality park or green space that is meeting the needs of its users by being clean, green, safe and welcoming.
Green heritage
Lambeth has also retained two Green Heritage Awards for Brockwell Park and Kennington Park in recognition of not only their rich history but also how this is being protected and made accessible to present and future generations of park users.
Friends of Vauxhall Pleasure Gardens
Paola Piglia, Chair of the Friends of Vauxhall Pleasure Gardens, said: "We are absolutely delighted to receive a Green Flag Award for the first time. We've taken Vauxhall Pleasure Gardens on a journey of improvement and will use this award to drive forward further changes that will make it even more sustainable, accessible and welcoming for both regular users but also new visitors to the Vauxhall area. We certainly know how much quality green spaces matter to local residents and visitors, and this award celebrates the dedication that goes into maintaining Vauxhall Pleasure Gardens to such a high standard."
Lambeth's award-winning sites for 2019
Green Flag Award: Archbishop's Park, Brockwell Park, Clapham Common, Eardley Road Sidings Nature Reserve, Hillside Gardens Park, Kennington Park, Milkwood Community Park, Myatt's Fields Park, Palace Road Nature Garden, Ruskin Park, St. John's Churchyard, St. Paul's Churchyard, Streatham Rookery, Vauxhall Park, Vauxhall Pleasure Garden and West Norwood Cemetery.
Green Heritage Award: Brockwell Park and Kennington Park
Green Flag Community Award: Brockwell Park Community Greenhouses, Eden at St. Paul's Churchyard, and Windmill Gardens.
For more information
The Green Flag Awards Scheme is run by the environmental charity Keep Britain Tidy. This international award, now into its third decade, is visible evidence to the general public that a park or open space flying the flag boasts the highest possible environmental standards, is beautifully maintained and has excellent visitor facilities.
The Lambeth Country Show, which takes place in Brockwell Park on Saturday, July 20 and Sunday, July 21, will provide an opportunity to celebrate Lambeth's Green Flag Award success in 2019. Individual celebrations will also take place in each park or open space from July in partnership with friends and user groups.