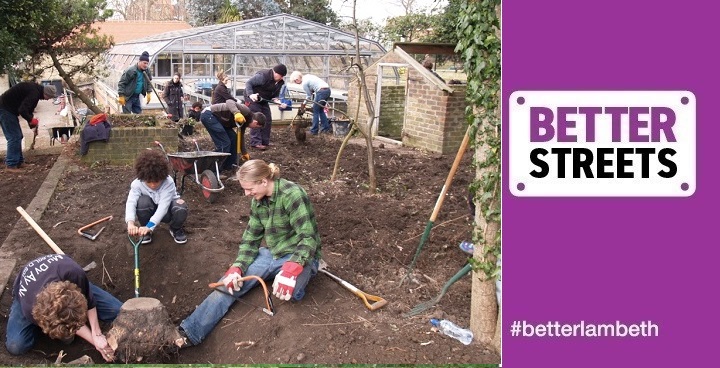 Lambeth now has 15 sites proud to fly a Green Flag. The Green Flag Award scheme is managed in England by the environmental charity Keep Britain Tidy and involves experienced judges visiting parks and open spaces every spring and summer to ensure each one meets strict criteria to be awarded a precious Green Flag – or to retain one. There's no shirking or slipping back on standards – Green Flags are hard to win and hard to keep!
A Community of Friends
We certainly couldn't have achieved this success without all our Friends of Parks groups and other key community partners, and each Green Flag is a recognition of their hard work and commitment.
More visibility for Lambeth's greening
We started with only one Green Flag – Milkwood Community Park istandard for n 2007. We've steadily added site after site over 10 years. Our current crop of winners includes Clapham Common, Streatham Rookery and Kennington, Myatt's Fields, Ruskin, Vauxkall and Brockwell Parks. But It's not just parks, and Green Flags aren't the only awards we can win. Lambeth also has three winners of 2018 Green Flag Community Awards. These recognise the work of local community groups in helping manage and improve open space in their neighbourhood – this year's winners are Brockwell Park Community Greenhouses, Eden Community Garden in Clapham and Windmill Gardens in Brixton.
More winners out there?
Both Keep Britain Tidy and Lambeth Council are really keen to see more local community groups apply for the Green Flag Community Award – it's easy to make an application and it's free, We also want local community gardeners and groups to apply in 2019 for two new London in Bloom award categories 'Our Community' and 'It's Your Neighbourhood'. They're also perfect for small sites and easy to apply for (and we can help). Come to any of the 15 parks and gardens flying a green flag this summer, or get in touch to ask about how your local open space can apply for an award next year.
---
For more information
For more information on Green Flag Awards, and to find an award winning site near you live, see Green Flag Award Winners page or email Lambeth Landscapes