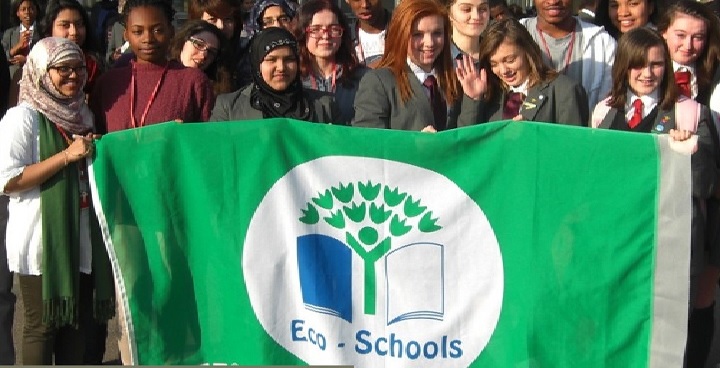 Green Schools Project helps schools to set up and run an environmental programme. It provides resources and support to teachers who get students involved in projects like energy saving and recycling. These projects raise awareness of environmental issues and help young people build skills, while taking a lead in improving their school's environmental performance.
First shoots
I was a maths teacher wondering how we could expect young people to become environmentally responsible when the school set a bad example – windows open with the heating on, lights left on, recycling boxes not emptied.  I got some year 12s to start an energy-saving project – which went on to save the school over £35,000 in 3 years. .
Putting down roots
Bishop Thomas Grant School contacted me wanting to set up an Eco Team. Years 8 and 9 created a garden growing potatoes, beans, spinach and courgettes. They held a "which house can recycle the most? "competition. They organised bake sales for endangered species. If you watched Planet Earth 2 you've seen the benefit on snow leopard conservation!
Growing minds
Schools are squeezed for time –but students who take a lead on environmental projects develop all kinds of skills such as communication, leadership and teamwork  that colleges want and that employers are looking for on top of exam grades.
Green Schools Project in Lambeth
I'd love more Lambeth schools to get involved – if you run a local project like a community garden, recycling initiative, or wildlife project, and you'd like young people involved, contact us.
If you're at school, or if you're a parent or teacher, and you'd like your school to have the benefit of working on environmental projects, get in touch.
Green Schools Project in the UK
I'd like to see every school in the country offering their students the chance to get involved with projects on walking to school, saving energy, recycling, litter, growing vegetables, or hosting an 'environment day'. I'd like to make use of young people's energy and enthusiasm to influence parents and encourage them to play their part in tackling climate change. Let's end up with every school in the UK as a model of sustainability, with young people who live in an environmentally responsible way and help drive the transition to a more sustainable society.
Getting started
The Green schools website includes resources to help start up your own environmental projects, including:
'how to start an energy-saving campaign' guide.
'how to start an Eco-Team at your school' guide, including a customisable recruitment assembly and poster.
You will also get support from an expert with first hand experience of implementing these projects in schools.