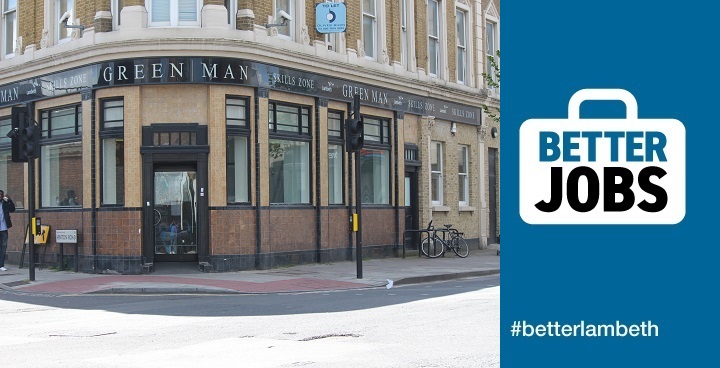 Green Man Skills Zone, based in Loughborough Junction, has been helping people from the community since 2010. Its latest programme, in partnership with Lambeth Council, is to assist Lambeth residents, with disabilities, progress into work. The programme is part of Lambeth's response to inequality detailed with the Borough plan
Support in Lambeth
Abu Bakaar Kamara, Green Man's Operations Director, says "it's fantastic we received financial support from the council for this project; people with life-long illness' and disabilities – particularly those in poor mental health – have very poor employment rates and are often unfairly discriminated against."
Support to get back to work
The voluntary programme, for Lambeth residents with a disability who are not working, is available for the next year promising 1-2-1 support to people who feel they may want to go back to work in the future. "It's very much a person led approach" Abu continues "we realise going back to work is not the first thing on everyone's mind but it may be a goal for the future. We give advice concerning benefits, training, debts – anything that prevents people from moving forward".
Word from the Cabinet
Cllr Tina Valcarcel , Lambeth Council Deputy Cabinet Member for Disability, said: "The Council's continuing partnership with Green Man is already helping Lambeth residents of all backgrounds to find, or get closer to work. This is a valuable initiative to overcome barriers to working, for people who already often face too many barriers."
For more information
If you want to talk to someone about returning to work then contact the Green Man on 020 7733 6310 or email.
This is only one project delivered by the Green Man – we assist anyone who is out of work or low paid improve their situation. If you require advice on benefits including Universal Credit, need a new CV, want help with finding work or starting an Apprenticeship or maybe just want to start a course to improve your IT skills pop in to the Green Man Skills Zone; 225 Coldharbour Lane or contact Abu, Andrea or Kevin on 020 7733 6310.