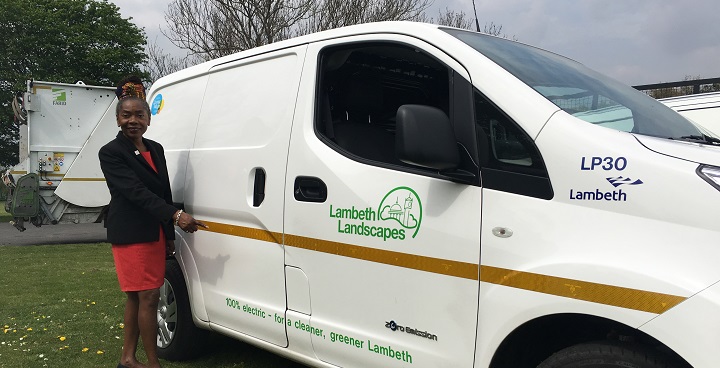 Lambeth Landscapes operate the largest single fleet in the council – 62 vehicles used in the upkeep of the borough's award-winning green spaces along with trees on the streets, parks and housing estates – tipper vans for litter collection,  electric  toilet cleaners vans, a JCB for recycling, the cemetery team's electric car, and more totalling over 34% of the fleet being zero emissions
FORS (Fleet Operators Recognition Scheme) first time entry
In our first year of entering for the award, Lambeth has just successfully achieved the FORS bronze standard – an industry-recognised accreditation confirming that we're operating our fleet to the industry's best practice and high standards.
Ultra-low emissions ready
Our fleet already conforms with London's Ultra-low emissions zones – which will include Lambeth in 2021. 94% of our 62 vehicles are classed as "Green" by Transport for London (TfL). TfL say only one in 200 UK vehicles meets ULEZ standards. We are making plans to make this 100% in 2021.
Van Excellence
Recognition for fleet Management also came in the form of Van Excellence accreditation from UK logistics (formerly Freight Transport Association), first awarded in 2018. We have now kept this for a third year running, making Lambeth Council the only London local Authority to achieve both the Van Excellence and FORS accreditations.
Word from the Cabinet
Cllr Sonia Winifred, Cabinet Member for Equalities and Culture, said "I'm proud of our commitment to reducing the emissions and pollution arising from our parks vehicles, and importantly our commitment to reducing road danger. The FORS programme is a key part of this and it's great to see Lambeth as London's forerunners."
FORS Silver and gold
Lambeth Landscapes' transport manager said: "We definitely see ourselves going for silver in 2021 – work has already started on the standards set –and possibly aiming for gold in 2022.
For more information
For more about Lambeth's Parks, including our Green Flag award winners, see the Council's web pages
For more about the ULEZ standards see TFL's information pages. To see if your vehicle meets the ULEZ standard, use TfL's vehicle checker.