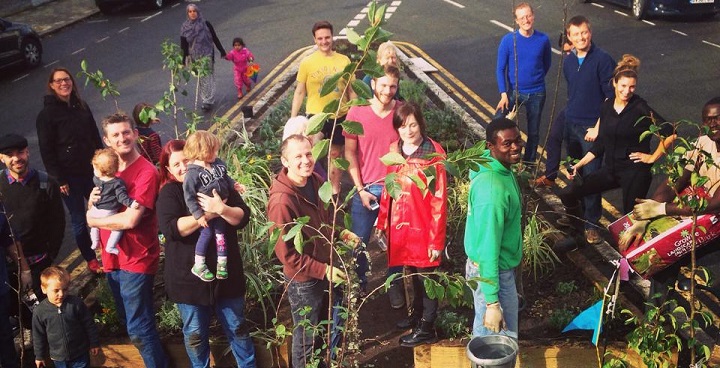 HATRA was set up at a meeting attended by over 20 residents from the three roads. We are now 60 strong and growing.
Our greatest success has been the Tasman-Andalus junction triangle which has been transformed from a rubbish-strewn concrete mess into an uplifting community garden. Working in partnership with Lambeth Council and Father Nature, HATRA members young and old planted up three beds with trees, shrubs, grasses and herbs (and one resident's cabbages).
The autumn weather was kind, and after HATRA's gardening group turned out twice to weed, the beds were looking very fine and ready for winter. We're very much looking forward to spring and another round of planting.
On the same Sunday the gardening group was out weeding the triangle, Father Nature was back to install a planter bed on the corner of Hubert Grove. This is another fly-tipping hot spot and the hope is that by showing these areas are being looked after and made beautiful, the flytippers will be shamed into stopping their anti-social behaviour.
HATRA had a brilliant first six months. The establishment of the group has helped forge a strong community spirit and led to significant improvements in the appearance of the area. Lambeth Council have been very supportive and we're particularly indebted to Cllr Andy Wilson and Father Nature for all their work.
We've got big plans for 2015 including a social in early February, the development of an official constitution and a street party in the summer. If you're a Lambeth resident considering starting you own residents' association, my advice is to do the right thing and jump right in. You won't regret it.
For more information about HATRA, please contact Nick Davies, Njdavies@yahoo.co.uk