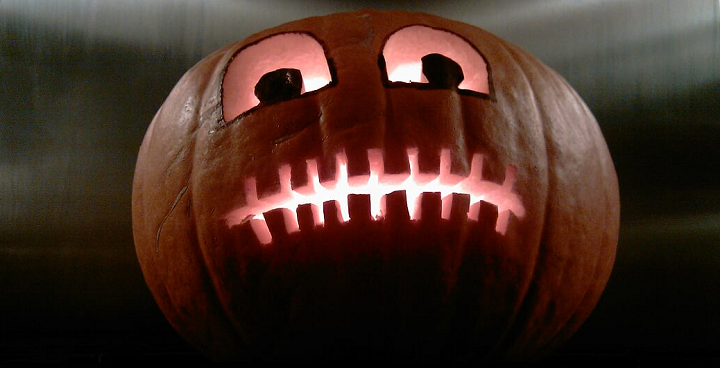 Here is some advice from the Safer Lambeth Partnership, which is made up agencies including Lambeth Council and Lambeth Police, to help you enjoy the night safely:
Provide highly visible costumes for your child. Bright colors, reflective parts or tape are key elements to ensure that your child can be easily seen at night. If your child has a dark costume, add reflective tape, tags or buttons.
Always make sure that children are accompanied by a responsible adult.
Always stay on the doorstep – never enter the house.
Only go to households where you or your friends know the person who lives there.
Remember some of our older or vulnerable residents may become concerned by the noise and the number of unexpected callers. Please be considerate.
Please respect 'No trick or treat' posters and don't knock on doors where a poster is displayed.
It might seem like harmless fun but anyone throwing eggs and flour on Halloween or scaring others could end up in a mess themselves. Threatening to throw something, shouting through the letterbox and scaring people could land you in serious trouble. You could get arrested and face criminal charges.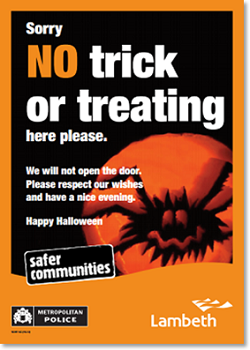 Remember that not everyone will want to take part in your Halloween events or trick or treating – so please respect their point of view.
If you do not want to be disturbed by trick or treaters this Halloween, download and print out a copy of the "no trick or treating" poster to display by your front door.
---
Useful contact numbers
Remember in an emergency, such as when someone is injured, being threatened or in danger, always call 999.
Lambeth Police non-emergencies 101
To report anti-social behaviour when it is not an emergency please use our online report ASB form.
Housing association tenants should report anti-social behaviour to their landlords.