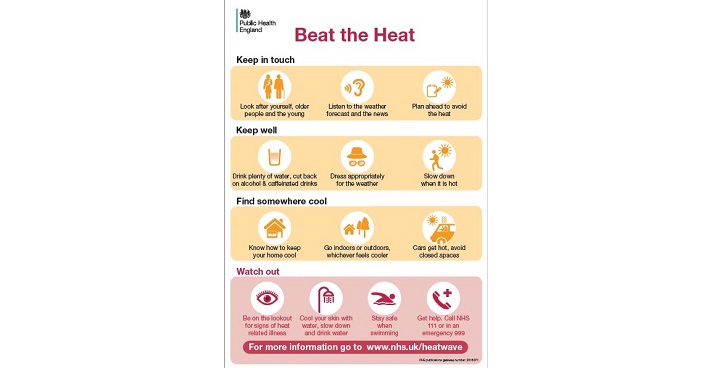 Temperatures in London hit 30 degrees this week and the Met Office has issued a heatwave warning until at least the end of the month. "There is an 80 per cent chance of heatwave conditions between 9am on Tuesday and 6pm on Thursday in parts of England". Public Health England asks all councils to share advice from the NHS on staying safe.
Why is a heatwave a problem?
The main risks in a heatwave are:
dehydration (not having enough water)
overheating,
heat exhaustion and heatstroke
Who is most at risk?
Anyone's health can be at risk, but especially:
older people, especially over 75s
babies and young children
people with serious chronic conditions, especially heart or breathing problems
people with mobility problems – for example, Parkinson's disease or a stroke
people with serious mental health problems
people taking medicines that affect sweating and temperature control
people who misuse alcohol or drugs
people who are physically active in the heat – eg labourers or people doing sports.
Top 10 hints for heatwaves
Try to keep out of the sun in the hottest part of the day (11am to 3pm)
If you have to go out, wear cotton clothes that don't fit too tight
Carry a bottle of water
Drink water – caffeine in tea, coffee or cola, or sugary or alcoholic drinks all make you more dehydrated
Walk in the shade, put sun block on and wear a hat
Look out for others (especially older people, young children, babies and people with heart or breathing problems)
Close the curtains in rooms that face the sun. It might be cooler outside than indoors.
Never leave parked cars with the windows shut if someone's inside, especially infants, young children or animals.
Don't run, cycle or do exercise in the hottest parts of the day
Check local safety advice on TV, radio, online or on signs if you're thinking of cooling down in the sea, river, lake or other outdoors bodies of water.
---
For more information
See the NHS advice