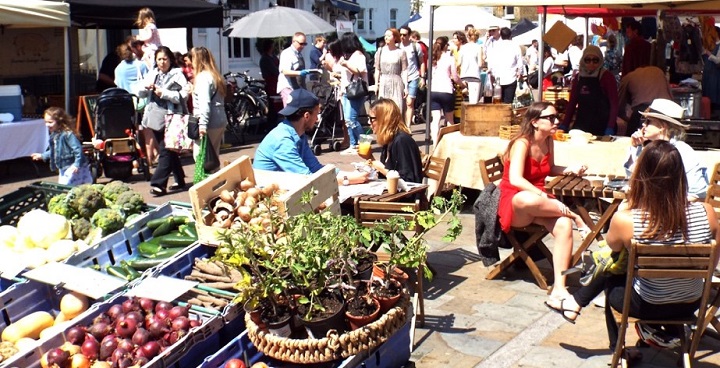 Herne Hill's regular Sunday Market was named 'best place to shop' in TimeOut's Love London awards – based on online voting for the best and most popular local businesses in the community.
Local and eclectic
City and Country Farmers' Markets, who run the market in partnership with Lambeth Council, said:
"For nearly 6 years we've worked to develop and deliver a truly eclectic local market. We believe that success at Railton Road is due to very high standards and focusing on the 'local' nature of the market. Many would be surprised to learn that around 70% of our stallholders live within 1.5km from Railton Road – now that's local! "
Boost for local business
"In addition, our market has dramatically stimulated Sunday trade in local shops, cafes, and other outlets – we believe footfall has increased an estimated 20% in the last year!
Teamwork
"Huge thanks to Lambeth Council and Herne Hill Forum for their support, and of course our fantastic stallholders who bring such excellent produce, crafts/vintage and superb food to the market – we even have a brilliant 'bike repair' stall. Now that's diversity! "Finally, thanks to our faithful customers who made this possible".
Word from the Cabinet
Cllr Jim Dickson, Lambeth Council Cabinet Member for the Voluntary Sector, Partnerships and Community Safety, backed up their statement:
"A winning market doesn't just happen. We have a local community – with especial thanks to the Herne Hill Forum – working together in a professional framework provided by CCFM. The market's free, fully equipped Community Space, where local groups, micro start-ups, charities and others come for help and advice and to work together is sponsored as part of the market."
Love from Time Out voters
"This market has created a real community in Herne Hill, it's brought everyone together to eat delicious fresh food! They have my vote!"
"Fantastic choice … from clothing to jewellery to vintage to kid's stuff to little gifts to selected pieces of furniture. Small, friendly, day out thing. Its welcoming feel is like visiting somebody's home."
---
For more information