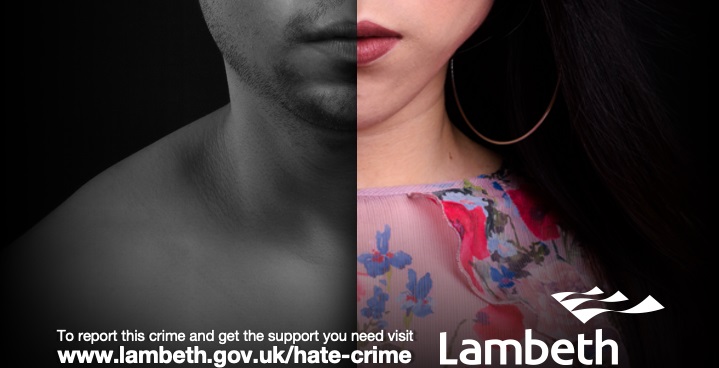 A week of action between the second and third Saturday in October each year, National Hate Crime Awareness Week's (NHCAW) aims are to encourage local, regional, national, and international authorities, partners, and communities to work together to tackle local hate crime issues.
What is hate crime?
Hate Crime is any criminal offence which is perceived by the victim to or any other person to be motivated by hostility or prejudice based on a person's race (or perceived race),disability, faith, gender identity, or sexual orientation, or any other protected characteristic.
Hating hate crime
Most people believe hate crime is repugnant, and Lambeth's recent residents' survey results show that the issue is a concern to people living in the borough. Unfortunately, hate crime data bears out this fact, with Lambeth one of the top five London boroughs when it comes to hate crime reports.
With this in mind, tackling the issue is a high priority for Lambeth's Community Safety Team and council colleagues. We are resolved to do what we can to raise awareness of hate crime, improve reporting of incidents, and ensure that survivors receive appropriate support.
Information stalls
To help with this, Lambeth Community Safety Teams are supporting NHCAW 2022 and have organised stalls in collaboration with Lambeth Disability Advice Service, Lambeth Links and the Metropolitan Police Safer Neighbourhood Teams.
Solidarity
We will hold NHCAW stalls in areas of the borough that have seen higher levels of hate crime, and encourage residents, businesses, faith institutions, and members of the public to pop along and support the work to raise awareness of hate crime and show solidarity against the negative impact of Hate Crime on all protected characteristics.
For more information
 This year, National Hate Crime Awareness are using the hashtag #WeStandTogether and will stand in solidarity with the victims of Racist hate crime. You can find out more about this week on the National Hate Crime Awareness websiteor on their Twitter.
# NoPlaceForHate
For more about Lambeth's stalls, Contact Prevent Project Officer Henry Roberts hroberts@lambeth.gov.uk
Date
Stall Location
Time
Attendees
Monday 10 October
Windrush Square
11:00 – 13:00
Council, Police, DASL
Tuesday 11 October
Streatham Station

Royal Vauxhall Tavern & Vauxhall Station

07:00 – all day

1700 – 1900

SNT Police, council support

Advisers, Lambeth Links, British Transport Police, Safer Neighbourhood Teams (SNT)

Wednesday 12 October
Southbank -lower concourse near Pret -Westbank
12:00-14:00
Lambeth Links, Council, SNT, DASL
Friday 14 October
Two Brewers Clapham High Street
17:00 – 19:00
Council, DASL, Lambeth Links, Police colleagues