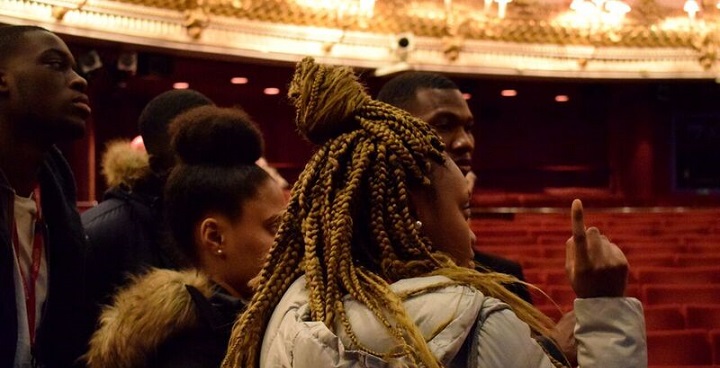 Archbishop Tenison School (ATS) Sixth Formers worked with Michael Volpe who runs Opera Holland Park for over a year. He was introduced to the school through previous chair of governors Simon Tenison.
Volunteers for opera
Michael mentored 8 of them, meeting every few months as they approached their exams. In October, Michael suggested including them in a new BBC film about young people's experience of opera. At first the students – who had no experience of opera – weren't keen to experiment or get involved. Then a few were brave and put themselves forward. Before we knew it, we had 8 Sixth Formers in the project.
Journey to opera
Head of sixth form Natasha Fox said: "The sixth-formers' journey – from listening to Tosca, going to rehearsals and seeing the performance – with interviews along the way, is a film about our amazing students who are a testimony to the potential, energy and enthusiasm that this age group bring to all parts of life. It will definitely knock down some prejudices that people may hold about young people.
"It is often believed that young people will not engage with things like opera and that they are not as aspirational as they should be. ATS Sixth Formers have done the school proud! They have shown that if you try new opportunities so much can come from them. They are now open to attending more events at places like the Royal Opera House and they have met all kinds of people who broadened their horizons."
Explore the world
Jim Henderson, Headteacher, said "Hiphop to Opera is a wonderful expression of broadening horizons and encouraging young people to step outside their familiar world and see how exciting it is to explore the world."
What the sixth formers said
George Twum said "Comfort zones are wonderful places, but nothing grows there." David Ezimah – who thought that he would never enjoy the experience – said at the end of the filming that he had been proved wrong, and that you can change perceptions about life. What this project proves is that schools in Lambeth who can give pupils experiences outside their comfort zone may be able to focus on children's cultural capital. It doesn't have to be Opera but it's not a bad place to start.
---
For more information