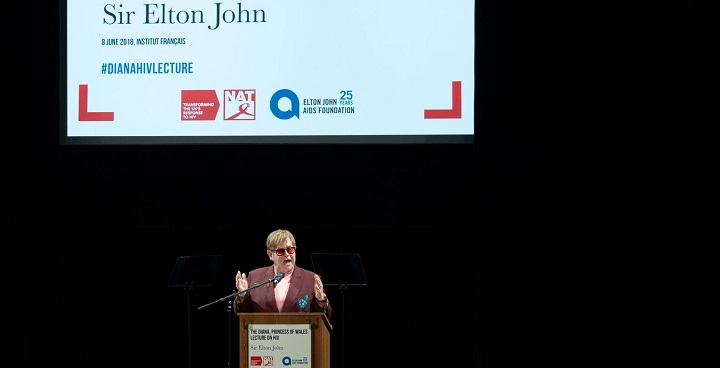 Following in the footsteps of Kofi Annan and Bill Clinton, Sir Elton John delivered the annual Princess of Wales HIV lecture at an event hosted by the National AIDS Trust on  June 8 and praised the work done by Lambeth Council in setting up the world's first social impact bond to improve HIV diagnosis and treatment.
New programme
The new programme will see over £2m invested in services across Lambeth, Southwark and Lewisham with the aim of dramatically reducing HIV transmission and ensuring more people get the treatment and care they need. One in ten people living with HIV in London remain undiagnosed and more than a third of new HIV diagnoses are late, causing damage to their health and increasing the risk of onward HIV transmission.
Building on excellent local service
Sir Elton said: "The UK has one of the best systems to treat people living with HIV in the world. We need to build on this and some excellent local HIV services to increase HIV diagnosis and get the people who need it into care. I'm so proud we're partnering with local government who have been on the frontlines of this disease for so long in the UK."
Word from the Cabinet
Cllr Ed Davie, Lambeth Council's Cabinet Member for health and social care, attended the lecture with Lambeth's Director of Public Health, Ruth Hutt. Cllr Davie said: "This new programme is hugely important for our borough because of our high relative rates of HIV infection, and because we have a high concentration of communities who are most at risk from HIV.  I'm grateful for Sir Elton John's contribution and proud that Lambeth council is leading the way in tackling this important issue."
Improving interaction
The ground-breaking partnership aims to improve interactions between the commissioning of HIV care and service providers. This will involve:
Councils
Clinical Commissioning Groups
NHS England
Public Health England
Hospitals
GPs
voluntary organisations; and
community sector organisations.
The investment in services will come from outside the public sector, with investors only getting their money back if agreed outcomes are achieved.