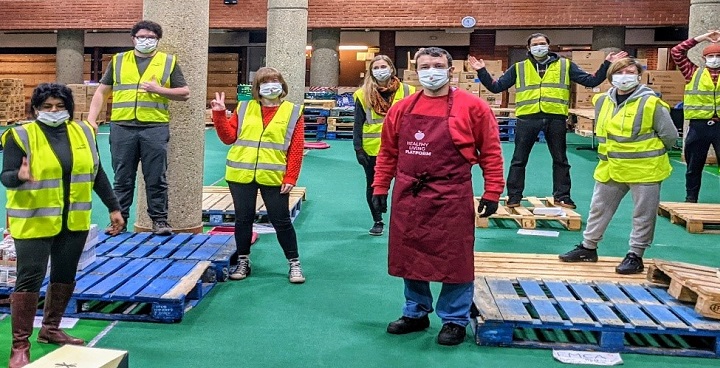 Lambeth Council has awarded Healthy Living Platform (HLP) a contract to co-ordinate and distribute surplus food. HLP's aim is to put food at the heart of the community so that no person goes without a nutritious meal.
Food parcels
At the start of the pandemic in March 2020 HLP and the council worked together to provide nutritious food parcels – 10-day supplies of fresh fruit, vegetables, pulses, dairy and even treats – to vulnerable and shielding residents. Lambeth's Children's Centres and Schools identified families struggling to access food. In three months, volunteers delivered over 20,000 parcels using trailers, cargo bikes and cars and HLP built up relationships with over 30 community organisations.
Word from the Cabinet
Cllr Donatus Anyanwu, Lambeth Council Cabinet Member for the Voluntary and Community Sector, said "People in Lambeth unhesitatingly came to the support of their community in response to Covid-19, starting up many local food sourcing and delivery projects. The partnership with HLP will not only support these community projects with food supplies, we will work together on creating long-term sustainable solutions to food poverty."
 Food supply
With the contract, HLP will act as a single point of contact for receiving surplus and other food and set up three hubs in south, central and north Lambeth to supply community hubs, within a network of organisations tackling food poverty and insecurity. Surplus food shared out fairly will support both existing and new projects. Longer term, HLP hopes to help create sustainable solutions like community kitchens and food buying co-ops.
More information
 Mala Naicker will manage the surplus food Hub supplies and logistics. She is currently working with community groups to mobilise the 3 hubs. If you're:
a local voluntary or community organisation that provide, or wants to provide food
a business that wants to donate food (or other items like toiletries)
Contact Mala by email: malafpm@googlemail.com or phone  07932918026
If you know someone living in Lambeth in need of food because of Covid-19 refer them to AgeUK Lambeth's MyCommunity Gateway who can signpost them to local sources of food and other support. Contact Gateway by email mycommunity@ageuklambeth.org  or phone: 0333 360 3700, Monday to Friday, 9am to 5pm