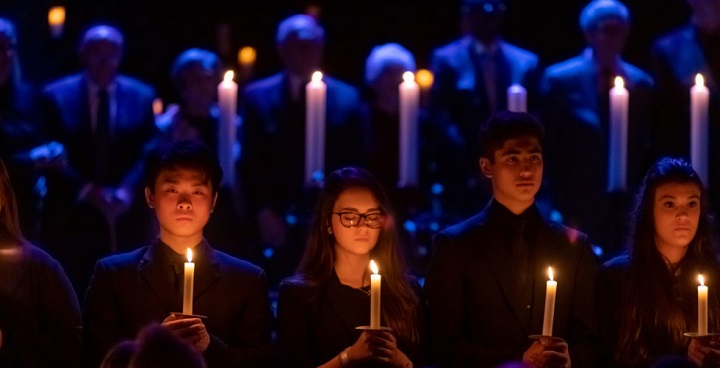 The theme for Holocaust Memorial Day (HMD) 2021 is Be the light in the darkness. This year, Lambeth will honour it online.
What is HMD?
It's a time to think about the darkness of the levels humanity can sink to, remembering how many times genocide started with dividing people into 'us' and a subhuman 'them', making it all too possible to treat them as valueless. Think about the darkest of emotions – hatred, and fear.
Light in the darkness
But there have always been those who resisted and were lights in the darkness, rescuers whose courage still shines bright in the darkness, campaigners shedding light to reveal and challenge the truth hidden in the darkness, and carers lighting the way during or after persecution.
Lessons from history
None of this is forgettable history. We still know darkness. The times we're living in show both the very best that humanity is capable of, but also denial, division and disinformation, conspiracy theories, and people who feel the fear of being helpless and insignificant. For the international community, there' still the need to shine a light where people are persecuted and hold those responsible to account. All of us can be lights in the darkness and tackle prejudice, discrimination and intolerance wherever we encounter them.
Lights in Lambeth
Lambeth has a long tradition of honouring Holocaust Memorial Day. Of course, this year our event has to be online but once again we will share lessons learned from the past and stand in solidarity. We choose to be the light in the darkness in a variety of ways and places – at home, in public, and online – and we welcome you to join us online at 3pm on Sunday 24 January. Lambeth's HMD event will include keynote speaker Professor Peter Lantos BEM, 'A childhood journey to Belsen', musical interludes, readings from a local school and words from Cllr Philip Normal, Mayor of Lambeth and Cllr Jack Hopkins, Leader of Lambeth Council.
"We will continue to do our bit for as long as we can, secure in the knowledge that others will continue to light a candle long after us." – Gena Turgel MBE, Holocaust survivor (1923-2018)
More information
To take part in Lambeth's HMD event join us online
For more details of this year's theme (and earlier years) see the HMD website