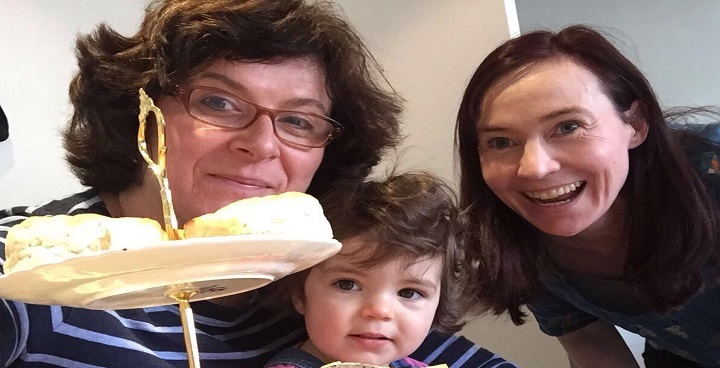 Local mother Angela Ryan is so grateful for the support she has received from Home-Start Lambeth that she has  now raised nearly £600 for the charity through a series of tea parties. Angela is pictured right with daughter Izzy and a guest at one of her Home-Start tea parties.
How Home Start helped
Angela suffers from fibromyalgia a medical condition that causes widespread muscular pain and fatigue and makes caring for her baby daughter difficult. "Bending and picking up and carrying Izzy is painful and I also get very tired," explains Angela. "Getting out was a struggle and with my partner at work I was feeling very isolated."
Helping hands
It was the arrival of Home-Start volunteer Charlotte that changed everything for Angela. She is one of the many volunteers trained by the charity to help young families cope in difficult circumstances.
Just a few hours transforms lives
"Charlotte comes for just two hours a week but it has made a tremendous difference to my life – and Izzy's. She can play with her in a way I can't and I get a chance to rest or carry out routine everyday tasks that most people take for granted. And I get adult conversation. "
Giving back
"I appreciate so much the help I have had from Home-Start that I wanted to do something in return", says Angela. "The tea parties just seemed like a good idea and people have been very generous."
Training now
Home-Start Lambeth is recruiting now for its next training course for volunteers who want to help struggling families with young children. The high-quality 40-hour course is free, builds on the volunteers parenting or grandparenting skills to help them give practical and emotional support.
Wide range of ways to help
Volunteers, who receive a reference after six months, commit to support a family for two or three hours a week for at least a year. And this could be anything from just listening to the parent to taking the children to the park
To find out more about Home-Start volunteering visit homestartlambeth.co.uk or call 020 79249292.