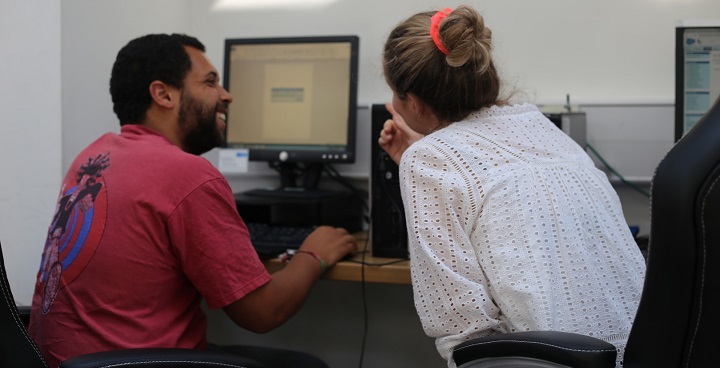 HfL recognises that the rapid advancement of technology in society presents many opportunities. However, some people are unable to keep pace with these changes and are at risk of being excluded from accessing basic services, including vital jobs and training. Its ambition is to support as many residents as possible to benefit and take advantage of all that the digital revolution has to offer.
The Digital Inclusion Programme – which integrates with Lambeth Council's skills investment programme – delivers for residents who have limited access to the internet, providing them equipment. and bespoke training and support.
HfL will:
Loan 40 laptops and 10 tablets, with data, to our residents;
Provide 100 phones with data to our residents, working in partnership with Hubbub;
Provide Wi-Fi and Laptop access at each of our community hubs for one day each week;
Provide bespoke 1-to-1 training and support for our residents;
Train and recruit volunteers as digital buddies to support residents going forward.
Word from the Cabinet
Councillor Jacqui Dyer, Lambeth Council's Deputy Leader (Jobs, Skills and Community Safety), said:
"The jobs of tomorrow need investment today. London is at the forefront of the tech revolution and we want all Lambeth residents to benefit from the new jobs and opportunities the digital world offers.
"This is just the start, and Homes for Lambeth will be at the heart of providing those opportunities to its residents."
Samantha Herelle, Director of Operations says of the programme:
"Our digital inclusion programme is the bedrock of our social investment offering, enabling our residents to live richer lives and take full advantage of the opportunities of our digital world.
"We have seen throughout the pandemic families and friends connect online, but sadly for some residents that has not been the case. Last year, the programme focused on connecting our residents to make sure they took advantage from the support we provided through our wellbeing programme."
Alison Muir, Chair of the HFL Homes Board said:
"I am very proud of the work we are doing at Homes for Lambeth to reduce the digital divide throughout the pandemic. This year the programme will focus on giving residents access to training and learning opportunities to give them the tools to get back in employment. It will also provide residents with bespoke support to access digital services and save money on utility bills."