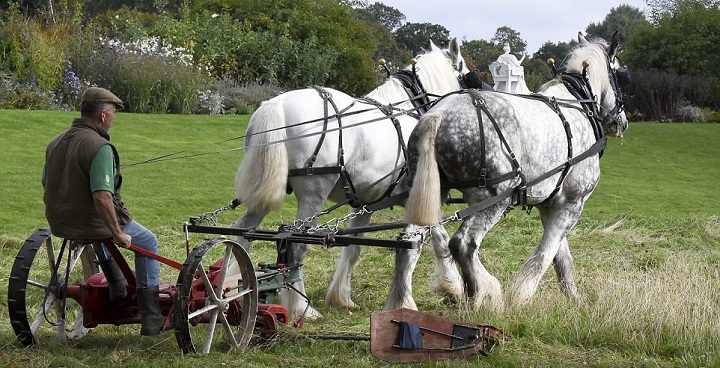 The Friends of Ruskin Park are sowing the seeds of a community initiative to grow heritage wheat.
First, prepare the soil
Shire horses will plough and harrow the ground in Ruskin Park. Using horses instead of machinery is an environmentally friendly way to cultivate parkland, offering lower noise disturbance to wildlife and lower soil compaction. The Historic Royal Palaces and the Royal Parks have worked with these horses for 25 years on various conservation projects.
Horse show
Shire horses Nobby and Heath are descended from the medieval war horse. They stand 18.2 hands (6 foot 1 at the shoulder) and will be managed by Operation Centaur with Irish champion ploughman Tom Nixon. The ploughing will be a free show for park visitors on 17 February.
Second, sow the seed
From lunchtime, volunteers will come together to help sow a variety of heritage wheat grains and broad beans. Also on offer during the day will be a seed swap and seed sale from Incredible Edible Lambeth, information about free seedlings from Myatts Fields Park greenhouse, a bread and pastry stall from the Old Post Office Bakery and supporters from Brixton Windmill. This is a chance for local people to find out more about the project and how they can get involved.  
Harvest the crop
August 2018 will see a big volunteer day to harvest, thresh and winnow the wheat grain, followed by a celebratory harvest festival in the park in September 2018.
The wheat-growing project in partnership with the Friends of Windmill Gardens and Brockwell Bake Association will help develop ongoing relationships with other food-growing projects in the local community.
Visit the Friends of Ruskin Park website to read more about the wheat growing in Ruskin Park project.
---
For more information
  The Friends of Ruskin Park is a charitable incorporated organisation, working to ensure the park is well cared for and maintained, has a planned and healthy future, and is preserved for future generations. We work closely with Lambeth Council and others with an interest in the park. Contact Charlotte community@friendsofruskinpark.org.uk.
Operation Centaur is a charity based in Richmond Park protecting now rare traditional working horses and using equine-assisted therapy to improve health and wellbeing. To find out more see their news and information pages.