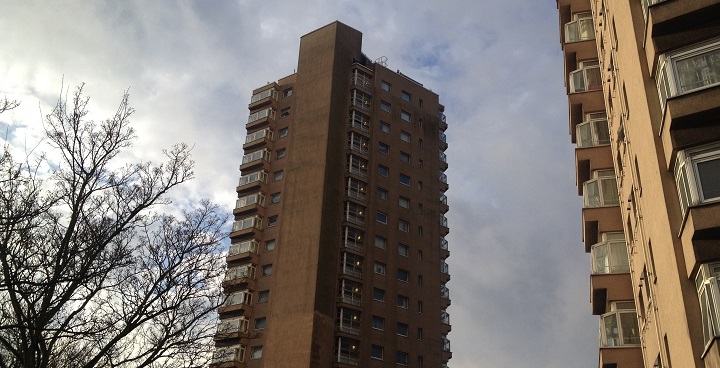 Mr R is one of more than 100 residents of Hurst Street Estate who have signed off the customer satisfaction paperwork to say they are happy with their new heating and hot water system. These have been installed by Lambeth Council contractors as part of Lambeth Housing Standard (LHS) works.
"A little boiler in the cupboard does all that"
"I've lived here since 1985, so 31 years in August. When they said I'd get constant hot water I said "that's for me".  And when they said they were replacing the boilers my first thought was that should help with the leaks – we've had one that started three floors above me and went two floors below. I assumed it was going to be like for like. I couldn't believe this little thing that looks like an Ascot tucked away in the cupboard would do all the heating. I used to be on economy 7.
"I used to be a DJ and I've been collecting music since the 1950s. Rock'n'roll is still the best. I was pleased when they did the survey and said I wouldn't have to move my music collection because there's no pipes on that wall.
Pipes and wood
The new radiators are a bit bigger than the old ones. That one under the window is much longer than the old one. I decided not to have the pipes painted. When the kitchen was done, I chose doors and worktop with the look of natural wood, not painted wood, and I think the natural copper pipe goes well with that and with the wallpaper.
"From a professional point of view"
"The workmen turned up on time, they were brilliant. I worked for years as a handyman, painting and decorating, and I could see they knew their job. I didn't really need to ask any questions before they started and I knew they didn't need me going in every few minutes asking questions when they were here.
"I just turn it on a little bit to keep the chill off the air. It's too soon to say if the bills will get cheaper, but I'm really happy with the work they've done."
---
For details of more planned heating works in the borough, and other LHS upgrades to Lambeth homes in 2017-18, see https://housingmanagement.lambeth.gov.uk/lhs