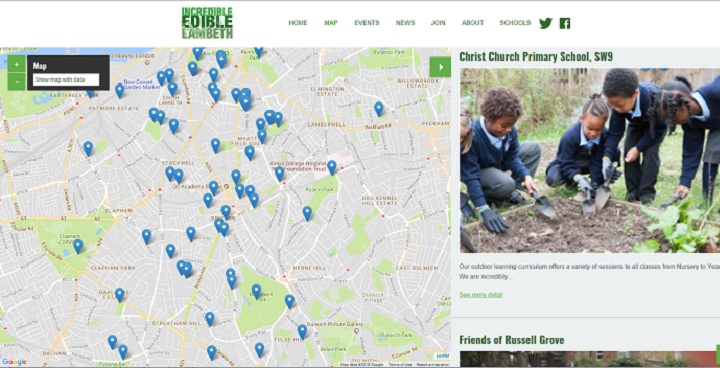 Incredible Edible Lambeth (IEL) is a network of food growers and activists who are working to improve our communities. We exist to re-localise the food system in Lambeth so that it nurtures us and strengthens our communities.
Join our map and network
We have a map of Lambeth's community gardens on our website. Click on our "Join" page and enter the details of your garden (ideally including a picture), and put yourself on the map. This will enable you to connect with other community gardens and get alerts about special offers relevant to you and your garden.
Sharing on the map
We love maps – they're a great way of finding out what is going on in your neighbourhood, and a way to show where gardens are and how they're connected geographically. The map came about because we realised that the best people to support community gardens are other community gardens. And they are best able to support one another if they are just the distance you can walk with a wheelbarrow apart – close enough to share seedlings, plants, tools and – most importantly – skills and knowledge.
Adding to the map
We started putting details on our map last autumn. We know there are many more gardens that are not yet on our map – especially smaller gardens on estates or in school grounds. Join our map and be part of our growing network! You'll get details of regular networking events that IEL is hosting for our gardeners – film screenings, guided walks, talks and training co-produced with our members.

We actively campaigned for London to become a National Park City and be truly valued for its green spaces, so we're looking forward to hosting London National Park City founder, Daniel Raven Ellison, for a talk in June. And to working with Lambeth Council again to host this summer's 'Lambeth in Bloom' garden awards.
---
For more information
To add your garden to the IEL map see their 'about us' pages
For details of IEL spring and summer events for the Lambeth gardening community, gardeners, check their events page