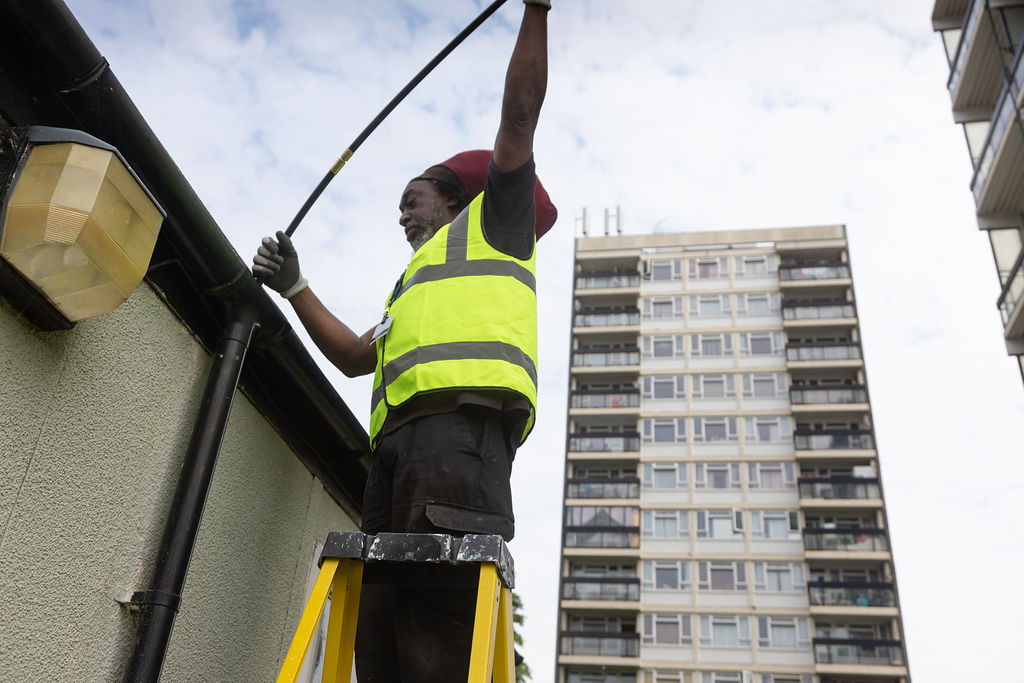 "Community Works", the council's in-house repairs service, has taken responsibility for a wide range of repairs to communal spaces, from reception areas, stairwells and walkways, to communal drains, paths and fencing.
The workforce, all of them directly employed by the council, will also provide tailored property adaptations for some of the borough's most vulnerable residents in need of additional support and care.
These tasks, on behalf of the Home Improvement Agency (HIA) – a part of the council which arranges works related to disabled adaptations – can range from simple jobs like adding a grab rail to full wet-room, shower or bathroom conversions.  In the past, all of this work was contracted out, but Community Works will now take over these repairs.
The move is part of the council's drive to radically redesign its repair and maintenance services in pursuit of its commitment to deliver better quality, socially responsible and digitally-driven services.
Community Works was set up in direct response to a report from residents, which urged the council to set up its own directly employed workforce. The "Task and Finish" group made 21 recommendations for the council to improve the way communal repairs are reported, recorded, done and inspected after completion.
Members of the new repairs team will go wherever they're needed across the borough. They'll travel around in Community Works vans, carrying out repairs allocated to them via handheld digital PDA devices. The team will also respond when residents contact the call centre to report a repair that needs to be done.
Community Works, which also includes surveyors and health and safety inspectors, plans to carry out regular inspections of every estate. They'll then work with housing officers to report back to residents on what each inspection found, the tasks required, and then a list of what has been completed.
Community Works is committed to training and employing local people – and creating at least six trade apprenticeships in the team's first year of operation. The team has already begun recruiting for a mixture of office-based staff and trades operatives who will help make Lambeth's estates a better place to live.
Residents can continue to raise any communal repairs via the call centre (020 7926 6000) from Monday–Friday 8am to 8pm and Saturdays 8am to 1pm, or with their housing officer. If you wish to contact any of the team please email communityworks@lambeth'gov.uk.