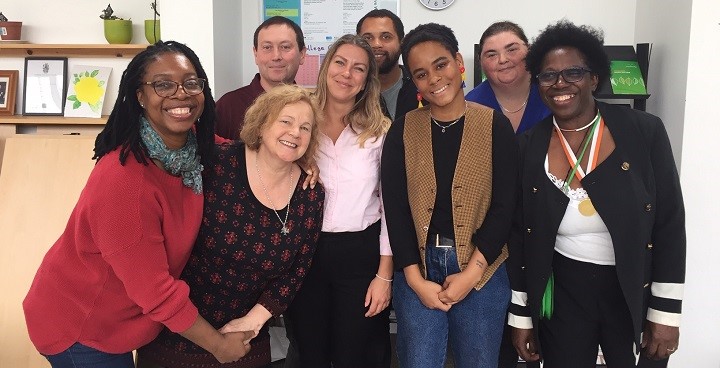 The Acute Wards Hospital In-Reach project, led by Mosaic Clubhouse, ThamesReach and Certitude began in October. The aim is to connect Lambeth Hospital in-patients to the community, to support them when discharged. The hope is that with more connections and a social network, people are less likely to be re-admitted to hospital. The project trained a group of Peer Workers with lived experience of mental health to visit four wards, with staff, and accompany patients out into the community.
 Teambuilding
Mosaic Clubhouse staff and members have always visited others in hospital, and we now have a team of 15 committed Peer Workers visiting Monday to Friday. Staff and Peer Workers supported patients to visit Lambeth services such as Raw Sounds and Connect and Do, helped them fill out forms, access courses and go to the hairdressers. Even a walk and a hot drink can be a welcome break from life on a ward, and a useful step to getting used to life outside hospital. Feedback from hospital staff has been really positive.
Running the Clubhouse
In-patients also get invited to Mosaic Clubhouse, where they can become members and get involved in running the clubhouse – working on reception, on producing the newsletter, gardening or café work. One in-patient said that since coming to Mosaic "I've become more confident, got new friends and got involved."
Good for the soul
The project also builds the Peer Workers' confidence and skills. Michael, a Peer Worker from the beginning, said: "People in hospital need other people, away from the staff, to talk to and relate to. Being part of this has been really good for me, good for my soul. I feel I'm making a difference, even if it's one person, it's worth it."
Word from the Cabinet
Cllr Edward Davie, Cabinet member for Health and Adult Social Care, said: "It's great that Mosaic Clubhouse, which already supports hundreds of our residents in the community, is now working in Lambeth Hospital. As someone who is recovering from alcoholism and depression myself I know how useful support from others who have been through similar experiences can be."
Next steps
Some Peer Workers are also doing a Peer Mentoring course with Morley College at Mosaic, equipping them with skills and knowledge for their next steps into employment. We hope the Hospital In-Reach project it will continue, to support people making the transition from hospital back into the community,and remaining well.
 For more information