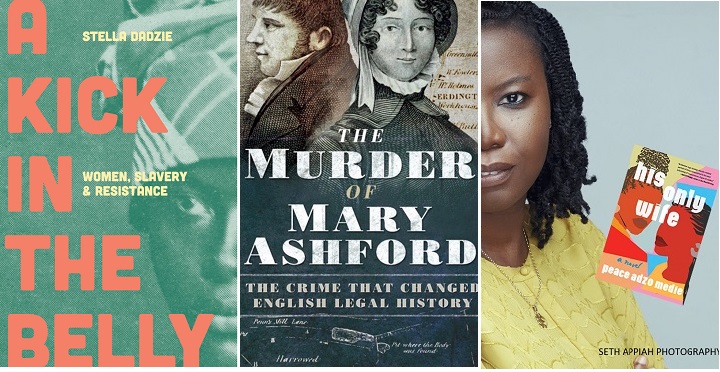 International Women's Day, 8 March, is a focal point in the movement for women's rights. Lambeth Libraries have a week of great online talks to support the theme:
The Murder of Mary Ashford with author Naomi Clifford
In the small hours of 27 May 1817, Mary Ashford, a young servant girl from the village of Erdington near Birmingham, left a party in the company of Abraham Thornton. A few hours later she was found drowned in a pool; an inquest established that she had been raped. The outcome altered the course of English legal history. In this many-layered account, Naomi Clifford looks at the key issue of whether Thornton was guilty but also explores themes including the birth of forensic investigation, the meaning of sexual consent and the struggle of a modern state to emerge from its medieval legal heritage. Join us as Naomi discusses her book, followed by a Q&A. Tuesday 9 March, 7pm
A Kick in the Belly: Women, Slavery and Resistance with Stella Dadzie
Enslaved West Indian women had few opportunities to record their stories for posterity. Yet from their dusty footprints and the umpteen small clues they left for us to unravel, there's no question that they earned their place in history. Pick any Caribbean island and you'll find race, skin colour and rank interacting with gender in a unique and often volatile way. Join Stella Dadzie to discuss the role of women in Caribbean rebellion. Wednesday 10 March, 7pm
Peace Adzo Medie discusses her latest novel – His Only Wife 
A modern Ghanaian love story with a healthy splash of feminism. In the USA it became an instant hit, a Reese Witherspoon's Book Club pick and Marie Claire's October favourite – "A Crazy Rich Asians for West Africa"! Bursting with warmth and humour, His Only Wife is a witty, smart and moving comedy-of-manners about the search for independence, and the rules that might have to be broken along the way. Tuesday 16 March, 7pm
International Women's Day reading suggestions
Women's Day List Challenge Don't forget to check out Lambeth Libraries' book recommendations from 8 March with our List Challenge of women's history, feminism and female authors…how many have you read?
Friday 5 March at 2pm – Celebrating Women: Good Reads for Children Join Librarian Colette on Instagram as she picks her top reads for children to celebrate International Women's Day.