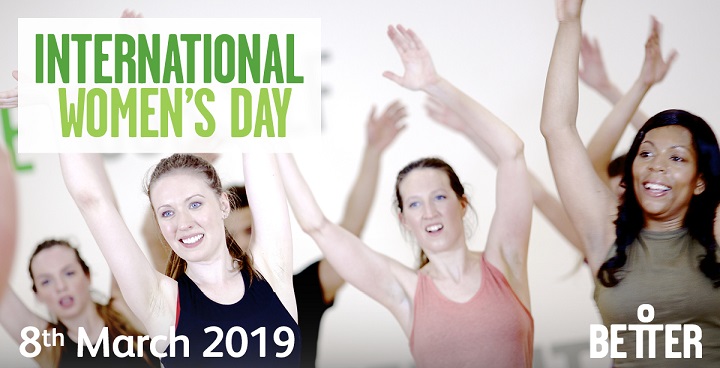 Friday 8 March 2019:  Lambeth's Better leisure centres join organisations all over the world in support of International Women's Day. From grassroots activism to worldwide action, we're entering an exciting period of history where the world wants  balance – we notice its absence and celebrate its presence. A balanced world is a better world..
This Girl Can
Fewer women and girls take part in sport and physical activity than men and boys. Better want to reduce this gap, helping everyone to feel comfortable and enjoy themselves in any activity of their choice.
Women-only classes for International Women's Day
Better offers FREE women-only classes and activities across Lambeth leisure centres on Friday 8 March:
Brixton Recreation Centre, SW9 8QQ
Mindfulness Meditation – 3pm. Meditate your worries away and learn some mindfulness techniques to improve your mental and physical health. Book at reception. First-come first-served.
Brixton RC also have women's only gym sessions in the Community Gym. Weekdays, 6:30–8am and 7–10pm.  Contact brixton@gll.org
Flaxman Sports Centre, SE5 9DF
Group Exercise Classes – 5-9pm – Back-to-back drop-in Circuits, Boxercise, Group Cycle, and Extreme Interval classes. Feel free to join one or more of our hour long classes. Contact flaxman@gll.org
Herne Hill Lifestyle Centre, SE24 0AG
Yoga – 6:15-7:15pm. Loosen up and let go. The class will feature a range of exercises from energetic, full-body workouts to relaxing, more traditional poses. Contact hernehill@gll.org
Streatham Ice and Leisure Centre, SW16 6HX
Dance Aerobics and Pilates – 6-7pm.  Combine exercise with infectious music to keep you motivated every step of the way. End with a Pilates cool down, focusing on concentration and muscle control. Book Online . Streatham I&LC are also hosting a charity bake sale with all proceeds supporting Cancer Research UK.  Visit the reception around 11:00 to support the event. Contact streatham@gll.org
Vauxhall Leisure Centre, SW8 1DY
Yoga – 7-8pm. From energetic, full-body workouts to relaxing, more traditional poses. contact vauxhall@gll.org
For more information
For more about This Girl Can see their information pages.