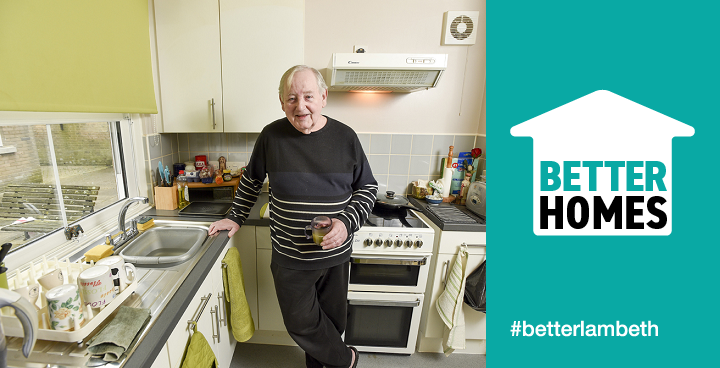 The council is now six years into its Lambeth Housing Standard (LHS) programme; a plan to make sure that all council homes in the borough are warm, safe and dry. The standard is based upon the views of over 6,000 residents, and the council committed £450m to the programme.
Since 2012, we have carried out internal work in over 20,000 homes, including brand new kitchens and bathrooms and have installed new lifts, boilers and heating systems along with other communal upgrades benefiting over 16,000 homes. We've also put in new windows, front doors and replaced roofs, among other work to almost 15,000 homes.
John's story
John was impressed by how quickly LHS contractors completed major works both inside his flat and in the communal areas of his home in a sheltered scheme in West Norwood.
"I used to have a bath with a chairlift here, which I didn't like – it made it look like an old man lived here and I'm not ready for that. A walk-in shower is much better with a new basin and toilet.
Kitchen space
"The kitchen's completely different now. They took out a big old cupboard to make room for the fridge freezer and put in new cupboards up and down. Instead of just six tiles behind the sink I've got grey splashbacks all round the kitchen that tone in with the black and white. I have a lot more space.
"'When are you having your windows done?' became the hot topic of conversation for everyone. You just need a good friend – you can spend the day in each other's flats while they get the work done then you can come back at 5pm and see how much they've done and how quickly. I was really impressed by how they put the windows in without having to move the bed or chest of drawers."
Putting the customer first
"One night I got back and there were wires coming out of the ceiling. I was a bit worried that I might accidentally pull them out in the night instead of the bathroom light cord so they stayed and fixed it.
Everything in its place
"I used to work as a pattern cutter – I must have cut thousands of pairs of jeans in my time – and I like everything to be in its place. The contractors were so well organised – one crew came in to do one bit, then as soon as they were finished another started on a different job. My word they were quick – but not at the expense of doing a proper job."